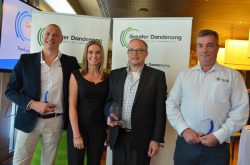 By Casey Neill
From fireplaces to photo frames and trash – the final nominees for this year's Greater Dandenong Chamber of Commerce Business Awards were a mixed bag.
The Wednesday 18 October breakfast at Sandhurst heard that Haulaway's beginnings were with Jim Hilbert in the 1930s.
Jim bought a horse and cart operation in South Melbourne and immediately added its first motorised truck.
In 1963 the business bought its first Dempster Dumpmaster truck, introducing front lift systems and mobile waste compacting to Melbourne.
Jim's son Peter Hilbert established Haulaway in 1983 and his grandson Richard and two great-grandsons are now also involved in its day-to-day operations.
It's based in Dandenong South and supplies the industry with compactors, bins and system auditing to reduce landfill.
Haulaway employs 62 people, has 40 trucks, services about 3000 clients and has grown about 25 per cent year-on-year for the past five years.
Richard told the breakfast that the next step was establishing a recycling centre.
"I'd like to see in my time at Haulaway that we have zero waste to landfill," he said.
The morning's second nominee, Illusion Australia, manufactures gas and wood heating products in Dandenong.
Nick Miller told the breakfast that the company poured 10 per cent of its revenue into advertising and established showrooms in heavy traffic areas for self-promotion.
He said Illusion invested heavily in research and development.
"We're developing products that won't be available for two years," he said.
The company employs about 150 people, including a consulting team that can meet clients in their homes.
It has grown about 17 per cent year-on-year for the past five years through expansion into Tasmania and Western Australia.
"If we're in the Sydney market in two or three locations it would certainly bolster our revenue," Nick said.
He said there were also plans to build a new manufacturing facility and increase the distribution capability of Illusion's current headquarters.
Lifestyle Brands was the third nominee, and national sales manager Maria Jakovljevic said the family-owned company started as a photo frame retailer at The Glen Shopping Centre.
Directors Aviv and Roni Palti saw an opportunity to import their own product range.
Today they have about 80 employees, more than 6000 products and supply more than 4000 clients throughout Australia, New Zealand, Asia and Ireland, including Harvey Norman, Myer and Matchbox.
"I've been here for 10 years and I'm one of the newer ones there," Maria said.
Lifestyle Brands produces 80 per cent of its designs in-house, sends out a team to ensure stock on the shelves is looking good, and has created an electronic stock management system for easy monitoring from order to delivery.
Big W has twice named the company as its overall supplier of the year.
In 2011, Lifestyle Brands established The Cambodian Rural School Trust to sponsor students.
"We go out to the poorest villages in Cambodia and we find bright students that don't have an opportunity to be educated," Maria said.
"One hundred per cent of all the funds go straight to the community. There's no overheads."
The Greater Dandenong Chamber of Commerce Business Awards winners will be announced at the Atura Hotel in Eumemmerring from 6.30pm to 9.30pm on Wednesday 22 November.
Visit www.greaterdandenongchamber.com.au/events for ticket information.