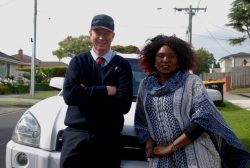 By Casey Neill
An early morning car crash brought out the best in two Noble Park neighbours.
Vin Johnson was driving along Dandenong Road one cold, May morning when Susan Ladu's car collided with his.
"She wasn't insured and neither was I, but straight away she offered to pay for the damage," Mr Johnson said.
"She even offered to give me a lift somewhere.
"There's nothing you can do. Accidents happen. There's no point getting out of the car and carrying on."
A local smash repairer quoted $3500 to fix the damage and had the car back on the road in a week.
"I came around to visit Susan a few days later and she was honest," Mr Johnson said.
"She said she'd try her best and that's all that you can ask people to do."
He worked out a payment plan of $50 a week for 18 months.
"If you're prepared to get up at 3.30am to go to Hungry Jacks to work a cleaning job, you deserve a break as far as I'm concerned," he said.
"It's the way I was brought up.
"I grew up in the country.
"It's what my parents would have expected me to do."
Ms Ladu paid off the debt in less than six months.
"Susan could have disappeared into Noble Park or Dandenong and I would never have found her, but she didn't," Mr Johnson said.
"Susan comes from South Sudan and is doing it very hard in Australia.
"I was impressed by her straight-up honesty so I gave her a break."
Ms Ladu told the Journal she'd woken up to an upsetting phone call from her cousin the morning of the crash, and was running late.
"The weather was a little bit foggy. I didn't see him. I just heard 'bang'," she said.
The crash came after "some Sudanese boys" stole her first car and crashed it. It was not insured.
"I had to work hard to find money to get another car because otherwise they would find someone to do my job," she said.
Ms Ladu has been working hard since she was just a little girl in South Sudan.
She started selling groceries when she was nine years old.
"It was a very tough life," she said.
"One day I decided to get out from there."
Alone, she escaped to Egypt and went through the refugee process to make her way to Australia, arriving in 2003 at age 17.
Ms Ladu said life in Australia was "like a miracle". She works as a cleaner six days a week, earning about $600.
She's saving money to bring her husband from Africa to Australia.