By Nick Creely
DDCA TURF 1 & 2 
REVIEW – ROUND 3 (DAY TWO)
TURF 1
DINGLEY v HALLAM KALORA PARK
Hallam Kalora Park star Leigh Booth is arguably the most in-form batsman in the DDCA at the moment, and he's proving a handful to dismiss for opposition teams.
After being set 151 for victory against Dingley on day one, Booth (106 not out) stood tall among immense bowling by Dinuk Hettiarchchi (5/51) and Christo Otto (3/57) to post his third consecutive century in all formats of the game to push the Hawks past the Dingoes with two wickets to spare.
A late cameo to tail ender Ben Hall (21 not out) also helped the visitors past the total after being 8/148, and the Hawks finished on 8/195 and claimed some vital points over a side also trying to push for a finals spot.
But it was all about Booth, who is enjoying a stunning start to the season – in just five innings so far this season (including Twenty20's), Booth has scored 11,15,109,106 and 106 not out, an aggregate of 347 runs at 86.8.
SPRINGVALE SOUTH v CRANBOURNE
Springvale South took care of Cranbourne with ease, with the Bloods thrashing the Eagles by 131 runs on day two at Alex Nelson Reserve.
After setting 278 for victory, the Eagles stood very little chance after being 2/40 as play resumed on Saturday, and were rolled for just 146 off 55 overs, with skipper Lucas Ligt (29) battling hard for his side.
But it was spinner Jarryd Straker (7/41) who completely stole the show to cap off a dominant opening three rounds.
Straker has now taken 16 wickets from his first three matches, and leads the wicket tally in the competition in the early stages of the season.
Steve Spoljaric's (1/17) seamers also proved a handful, while slow bowlers Malinga Bandara (1/39) and Craig Slocombe (1/4) did their bit to grind the Eagles into the ground.
BUCKLEY RIDGES v MORDIALLOC
Buckley Ridges continued on with its irresistible start to the Turf 1 season with a crushing victory over reigning premiers, Mordialloc, at Park Oval on Saturday.
After last week was washed out, the two sides played a one-dayer, with the conditions suiting the Bucks to a tee.
Winning the toss and batting, Daniel Watson (51) and star Kiwi recruit Greg Todd (110) got the Bucks off to a perfect 79 run start, slamming the boundaries and putting the brilliant Bloodhound bowling line up under the pump.
Todd made a wonderful century-anchoring the innings and seeing the Bucks to a formidable 6/235 off 40 overs, a total that had them sitting comfortably.
Watson (4/19), Wes Nicholas (2/41) and Matthew Goodwright (2/26) then all combined with the ball to ease their way to victory, as the Bloodhounds weren't able to recover after the key scalp Ian Daniel (18) was taken by gun seamer Jurgen Andersen early in the innings.
Some fight by Peter McDermott (43) and Jakob Woinarki (35) saw the Bloodhounds reach 166 off 37 overs.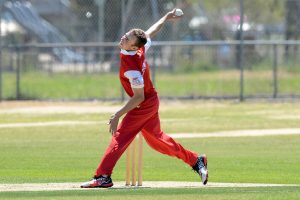 NORTH DANDENONG v ST MARY'S
At Lois Twohig Reserve, North Dandenong narrowly escaped an embarrassing reverse outright loss to St Mary's, claiming the points after a drama filled day two.
After rolling the Saints for just 39 on day one after making 126 themselves, the visitors rode their luck with the bat in their second dig, as Rhys Serpanchy (102 not out) and skipper Kaushyala Gajasinghe (86) somehow lifted them to 6/262 off 55 overs before declaring.
With the Maroons needing 175 off 33 overs for outright, or simply to survive for first-innings points, Syed Mehmood (12) and Sanjeewa De Silva (31) started steadily enough.
But spinners Ruwantha Kellepotha (4/6) and Kaushyla Gajasinghe (2/23) combined beautifully to rip apart the Maroons and leave them 8/79 with four overs left.
But Gayantha Wijelithaka and David Bell managed to survive the tense last 15 minutes to claim a win that almost wasn't.
HEINZ SOUTHERN DISTRICTS v NARRE WARREN
Narre Warren certainly pushed HSD on Saturday on day two, and weren't disgraced, but eventually the class of Kaushyla Weeraratne proved a bridge too far for the Magpies.
The Magpies entered day two at 5/90, just 47 runs short of the Cobras' first innings total, and despite battling hard, Weeraratne (6/37) helped skittle the visitors early in the day to roll them for just 110.
The Cobras then made their way back to the middle, with Weeraratne belting 103 – a knock that included 12 fours and six sixes – and combined with Brent Patterson (51) and Michael Davies (45), finished the day 3/214 off 44 overs before stumps were called.
Turf 1 Ladder
Springvale South
Buckley Ridges
Mordialloc
Hallam Kalora Park
Heinz Southern Dist
Berwick
St Mary's
Dingley
North Dandenong
Cranbourne
Dandenong West
Narre Warren
Rolling Turf 1 Team of the Year
Leigh Booth (Hallam KP)
Ian Daniel (Mordialloc)
Daniel Watson (Buckley Ridges)
Janaka Liyanabadalge (Narre Warren)
Matthew Chasemore (Berwick)
Steven Spoljaric (Springvale South)
Ciaron Connolly (Hallam KP, Keeper)
Dinuk Hettiarchchi (Dingley)
Chathura Athukorala (Mordialloc, Captain)
James Wilcock (Berwick)
Jarryd Straker (Springvale South)
TURF 2
Beaconsfield and Narre South played out an absolute epic down at Strathaird Reserve on day two of their clash, with the Lions falling agonisingly short of an outright victory.
The Lions were set 94 runs off eight overs late on day two to achieve outright, after earlier claiming the points after chasing down the Tigers' total of 162 off the back of skipper Scott Phillips (53).
Phillips (54) once again belted another half century, and with every Tigers' fielder on the ropes apart from the bowler and keeper, the Lions finished on 2/93, just one run short of earning the extra points.
In other matches across the round, Parkmore (5/176) defeated Lyndale (161), Fountain Gate 9/171 were too strong for Keysborough (126), Narre North (9/195 and 0/20) won outright over Lynbrook (99 and 114), Silverton (217) thrashed Parkfield (134) and Coomoora (7/179) lost to St Brigid's/St Louis (8/183).