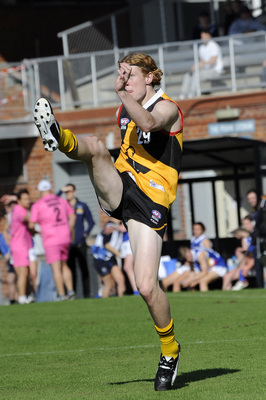 By Hayley Wildes
There is no doubt that the Dandenong Stingrays have a squad full of potential.
There is one name that, if you've followed the Stingrays in recent years, will come to mind very quickly when you think about AFL potential.
That name is Bailey Williams.
Williams, a 198cm and 90kg key forward/ruck, has started his final season of TAC Cup footy on a tear.
He is taking over games, including a seven goal haul against the Western Jets in round four, with his otherworldly athleticism and ability to compete when the ball hits the ground.
Stingrays coach Craig Black talked about what sets Williams apart from other big men.
"I think Bailey's athleticism is his key." He said.
"He's 198cm, but moves like he's 188cm – so he's able to get the ground balls and you can kick it out in front of him. His vertical leap is pretty spectacular to watch."
With spades of athleticism, Williams' focus in 2018 has been on another aspect of his game.
"I just really wanted to step up my intensity from last year, obviously being a top-ager I really wanted to step up and make an impact early in the year and I feel like I've done that so far." Williams said.
That intensity was on show in a hard-fought battle against AFL-listed player Braydon Preuss when the AFL Academy took on North Melbourne VFL earlier this month.
As Academy's #1 ruck, Williams took it right up to Preuss – a 206cm and 109kg ruckman.
"That was awesome." Williams said of that match-up.
"It was another massive step up for me, obviously with the big bodies and Pruessy being a big guy, but I enjoyed the challenge."
Another challenge will come in June when Williams represents Victoria Country at the U18 National Championships.
"Representing Victoria again is going to be massive. I think we're going to be fairly strong and we'll be ready to have a big impact on the Championships."
With Williams spending the majority of his 2017 TAC Cup campaign in the ruck, he has been able to showcase his versatility in 2018, flourishing as a key forward.
"I love going forward. I've come from a forward background and last year to get a big taste of being a ruckman, it's good to go back to what I have naturally done." Williams said.
What does the rest of the season hold for Williams and the 'Rays?
"Individually, I just want to keep improving, string a few good games together and I think our side has got the potential to go all the way this year, so we'll see how we go." Williams said.
"I think our goal is to the win the cup for sure."