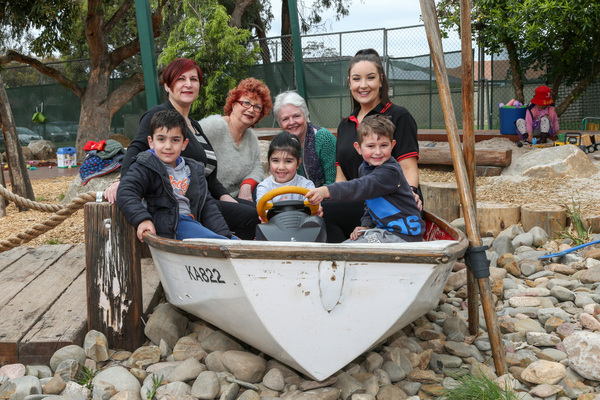 By Casey Neill
Jessica Battershill's gone from kinder kid to kinder teacher at Shalimar Park Pre-School.
She'll be among guests at celebrations to mark the Dandenong North centre's 40th birthday on Saturday 26 November.
"I have fun memories of playing outside and the teachers always being very positive and helping," Ms Battershill said.
"I always felt very welcomed. I had a really good sense of belonging."
That continued when she returned to the kinder for a work placement as part of her studies.
Her teacher Lena Saracino was still there.
"She knew. As soon as I said my name she remembered me," Ms Battershill said.
"It was pretty special.
"I was like 'wow, I must have made a good impression'.
"She guided me and gave me so much advice.
"When a job opportunity opened up she recommended I go for it."
That was about three years ago.
"There are parents I went to kinder with who are bringing their kids in," she said.
Ms Saracino said: "Jessica was a lovely child. She was really very caring, very nurturing towards the other children."
She left the centre about two years ago to help look after her grandkids.
"I had a wonderful experience working there for 22 years with some wonderful families and committee members," she said.
"The centre's certainly come a long way.
"We've got lovely staff working there. I certainly miss the place.
"We've always had some really amazing committee members who've been very dedicated to keeping the kindergarten running and on track."
Jan and Terry Flynn were founding committee members who campaigned for the kindergarten.
"Two blokes knocked on our door" to enlist help to establish Shalimar Park, Ms Flynn said.
"There were five of us to start with.
"I was the first enrolments officer. I was working full time back then.
"They'd come to our house and pay $1 and they'd become a member."
She said the kinder doors opened during the last term of 1976.
"I didn't have children but we were planning to have a family in the next few years," she said.
"My first one went to the kinder. I couldn't get the second one in.
"Nine years later we had another one and he went to Rosewood Downs and the second one went to Menzies Avenue.
"My husband used to write the newsletter and I used to type it, and there was a bloke around the corner who had a printer who used to print it for us and we'd put it in letterboxes.
"It was a great community thing."
Ms Flynn said the centre even shaped maternal and child welfare constitutions for years to come.
It adopted a measure that Mr Flynn had instituted at an athletics club whereby half the committee members resigned each year, rather than an entirely new committee starting every 12 months.
"When maternal and child welfare saw that, they adopted it," she said.
Celebrations will run from 10am to noon.
Call 9795 5226 for more information.