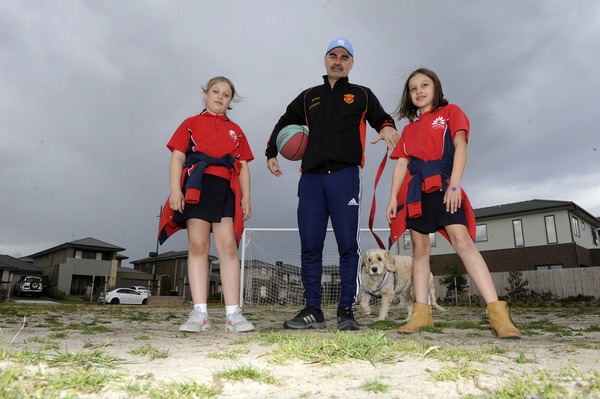 By Cam Lucadou-Wells
Residents in a Keysborough housing estate waited for years for their long-promised and overdue local park.
Twelve months after opening, the site at the corner of Stanley Road and Westwood Boulevard is still far from a finished product.
Built by Greater Dandenong Council, the park's 'lawns' are blighted by vast dunes of grey sand; its grasses are still to take hold.
As a result, the soccer pitch is just "full of weeds and sand," says resident Zaneta Biskup.
"It's terrible – you can't imagine kids playing soccer and footy there."
The park provides a basketball ring, barbecue and a playground set. But lacks any means of sun shade, and toilets.
Residents had bought into the new estate on developers' promises of attractive parklands, like the showpiece 'Pirate Playground' in the nearby Somerfield estate.
They instead had to wait several years for the park to be built, which is lack-lustre in comparison, residents say.
"We were promised the world and they didn't deliver," Ms Biskup said.
Since moving in four years ago, Eddie Kolar says his young children had since grown out of using the playground.
As for the soccer field, "anyone who wants a kick around aren't going to enjoy themselves – they're just going to get sandy".
Greater Dandenong's acting engineering services director Charles Taveira said the turf's quality would "improve significantly in the next two to three months" with the start of the council's spring maintenance program.
Up to now, a warm climate grass had been used due to its drought-tolerant and sustainable qualities. It would take a minimum of 12 months to establish itself.
The park and pitch, designed for casual recreational use, had been "well utilised" by the local community, Mr Taveira said.
Councillor Matthew Kirwan said the building of the park had been long delayed because one of the estate developers "held out" on paying contributions to the council.
"Now the frustration is that a year after it was opened it is still not finished."
Cr Kirwan had sought to have residents' frustrations resolved since the park first opened but it was "still in a very poor and unacceptable state".
"It should have been fixed at the start and I think pre-grown turf needs to be seriously considered.
"We need to do the job once and for all."