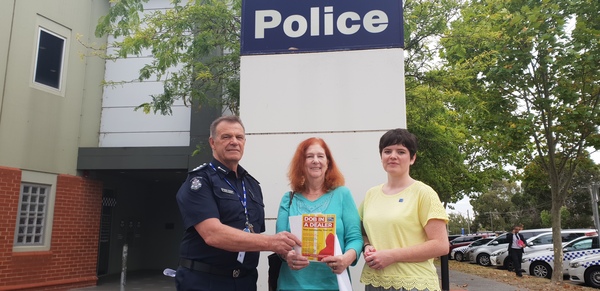 By Cam Lucadou-Wells
People should have no qualms joining the latest 'Dob In A Dealer' campaign targeting the illicit drug trade.
"It doesn't necessarily mean you're dobbing in family or a friend or going behind their back," Victoria Police Acting Inspector Graeme Stanley said at the launch at Dandenong.
"You're actually supporting them.
"It can actually help them seek assistance and get the necessary help to cut their habit and have a healthy lifestyle."
For law enforcers, no snippet of public information is too small.
It is anonymous – no calls are traced or identified – and can help fill in the bigger picture of a crime investigation.
And in turn, it provides a vital stop to the supply and creation of illicit drugs like 'ice', MDMA, cocaine, heroin and cannabis by criminals and organised gangs.
A crop-house or meth lab could be at your next-door neighbour's, Insp Stanley said.
Tell-tale signs include windows blacked out, high electricity use, a characteristic 'clan lab' smell, short conversations in cars outside and people acting suspiciously at days and nights.
Acting Inspector Stanley said the campaign could help halt an increase in drug offences and clandestine meth labs in the Dandenong area in the past 10 years.
He said the local manufacturing leads to "ease of access" to illicit drugs in the area.
"That's the area we're concentrating on trying to disrupt."
Since its national launch in 2013, the Dob In a Dealer campaign has fuelled extra info on drug dealing to Crime Stoppers and Victoria Police.
During the 2016 campaign, there was an average 143 per cent rise in public information reports in Victorian locations.
Since a relaunch in City of Casey in November, 180 information reports have been lodged in Greater Dandenong, Casey and Cardinia.
Greater Dandenong mayor Roz Blades said drug use had become unacceptable, creating social and family harms.
She urged people who knew drug users and makers to get involved.
"It's absolutely vital for this program to work."
Crime Stoppers Victoria chief executive Erika Owens said criminal drug activity was not only costing millions in healthcare and law enforcement.
"It is tragically and unnecessarily costing human lives."
The program is funded by the Federal Government, and partnered by Crime Stoppers, City of Greater Dandenong and Victoria Police.
To report drug making and drug dealing, contact Crime Stoppers Australia on 1800 333 000 or crimestoppers.com.au