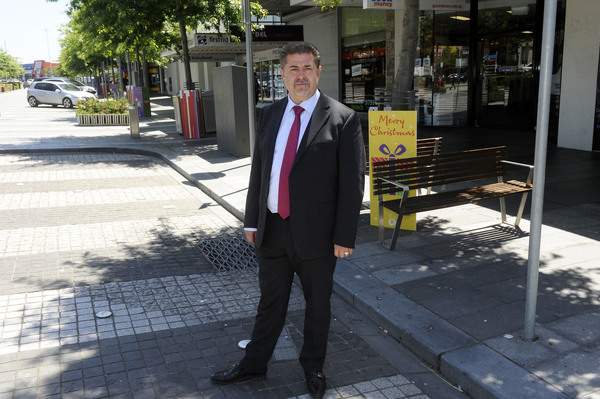 By Cam Lucadou-Wells
Free parking will be trialled in a bid to reinvigorate Dandenong's 'ghost town' precinct in Lonsdale Street.
Greater Dandenong Council is expected to forego up to $350,000 revenue as part of the 12-month trial in the central-business section between Foster and Clow streets.
Drivers will still have to abide by parking time-limits in the area.
The council will also waive fees for footpath-dining tables and chairs on Lonsdale Street for the next two years.
Cr Jim Memeti, who sought the intitiative, said he wanted Lonsdale Street to bounce back to near its heyday levels.
In his childhood, his mother wouldn't let go of his hand as they walked through swarms of people in the main street, Cr Memeti said.
"I think it's going to be fantastic. It is less of a hassle for people who had to stop and find loose change.
"It also means the coffers of the retailers will grow."
Other parts of Dandenong's CBD such as the Market, the Plaza, and the Afghan and Little India precincts have been thriving, a council report stated.
However, outside of those "magnet" areas, retailers are struggling.
The exodus of seven bank branches from Lonsdale Street had left large vacant spaces – though the vacancy rate was in line with other Melbourne shopping strips, the report said.
"Put simply, there is little reason for people to go to the non-magnet areas of the Dandenong Activity Centre unless they are accessing a specific destination niche offer."
The council will also create a marketing campaign to attract more 'foodie' visitors to Lonsdale Street.
Star News last year reported on concerns from Lonsdale Street traders near Boyd Lane. Several real estate agents were on the move and Jim Dandy Hotel put up for sale as a vacant possession.
Real estate agent Ashton Ashokkumar welcomed free parking as a means of luring back shoppers.
At a council meeting on 23 April, Cr Matthew Kirwan said the footpath-dining encouragement package would also work in strips such as Brady Road, Railway Parade and Hemmings Street.
He said Lonsdale Street had sections "full to the brim" car parks and other patches of empty car spaces.
"Since the tweaking of time-limits last year the situation has improved. Hopefully this trial will see it improve further."
New restaurants that were thriving day and night near Clow Street were the future of Lonsdale Street.
"Some businesses like banks and real estate agents are not suited to Lonsdale Street any more.
"Nor are bargain shops which are declining in trade.
"In short, Lonsdale Street will continue to revitalise by new businesses suited to the location opening up as much as by any parking changes."
Cr Sean O'Reilly said it was important for the "visible" Lonsdale Street area to thrive.
"We want it not only to be busy but to look busy."
Cr Tim Dark said he hoped the incentives would lead to a night-life dining scene.