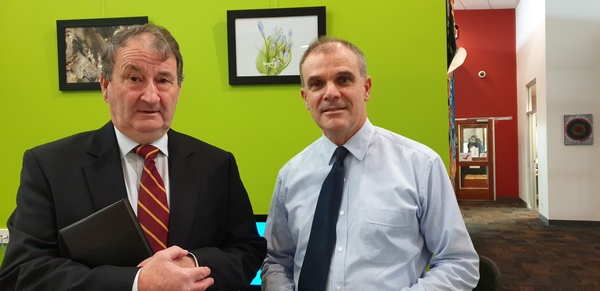 By Cam Lucadou-Wells
A powerful partnership between Hallam Senior College, the community and employers has been forged to provide pathways to employment and study.
From next year, the college will offer VCAL, VCE and VET programs across 17 TAFE-based courses for 700 senior secondary students and adults.
Groups such as Victorian Employers' Chamber of Commerce and Industry (VECCI), the Housing Industry Association (HIA), Chisholm Institute, Federation University and Doveton Neighbourhood House are closely involved.
They will help shape the courses and place students in relevant work experience.
The offered specialist fields will address skills shortages – where job opportunities are most common.
They include allied health, food and hospitality, construction, light automotive, electrical and plumbing, robotics, engineering and biomedical, contemporary music, and new media.
The curriculum will be flexible, responding to student interests and employer needs, Hallam Senior College executive principal Gregory McMahon said.
"We're re-shaping Hallam to ensure the highest quality outcomes for those seeking a high-quality senior secondary education."
The concept offers senior secondary programs including VET certificates in the "security" of a structured school environment that 16 and 17-year-olds need, he said.
Their studies will lead them towards the options of university, TAFE, apprenticeships, traineeships and ongoing work.
As one of just three Year 10-12 colleges in Southern Melbourne, Hallam is the "logical next step" for students graduating from the stunningly successful Doveton College P-9.
Many of Doveton's students are already steeped in strong training in STEM and performing arts subjects – pathways that will continue at Hallam.
The Hallam project could open its doors to adult training at night, just as parents enrol in cooking, parenting and English language courses at Doveton.
The college will also have a broad South-East regional focus.
Hallam students already hail from a 40-kilometre catchment area as far away as Frankston and Tooradin.
The new curriculum will be open for any students seeking studies in these fields.