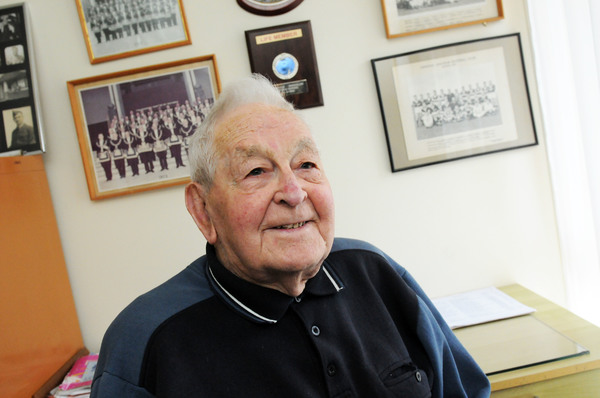 By Danielle Kutchel
An intense interest in people has driven George Raphael OAM to give back to the community for more than 70 years.
The 93 year old Keysborough resident and former naval serviceman has been awarded an Order of Australia Medal in the 2019 Queen's Birthday Honours for service to the community in a range of roles.
He is a founding member of the Aspendale/Mordialloc Probus Club, which was the first combined club in Victoria, and is serving his third year as president after having previously held roles like treasurer or outings organiser.
Mr Raphael is also a fourth generation Freemason, having joined up when he was 19.
"It's been my life blood over 74 years, I've made a number of friends through there," he said.
He's involved himself in many of the organisation's activities over the years, including being part of a taskforce that helped restore fencing for farmers after bushfires tore through Bairnsdale many years ago. He also helped raise money for Odyssey House, a rehabilitation facility for people struggling with drug or alcohol dependence.
As well, Mr Raphael played a role in the development of the South Eastern Masonic Centre, watching as a volunteer when the first sod was turned and continuing to volunteer until last year.
Giving back to the community gives Mr Raphael a deep sense of satisfaction.
"It's hard to put into words some of the thrills you get out of things," he said.
"In serving my fellow man, I get satisfaction seeing the satisfaction they derive from the assistance I give them. You get back out a lot of what you put in it."
He's spent many years "putting in", including in his career with the State Electricity Commission of Victoria. Among his proudest achievements is being responsible for introducing equal pay for equal work, and successfully avoiding a costly strike when a shorter working week was introduced into the industry by negotiating with the union.
Despite his many achievements, being awarded an OAM is something of a surprise.
"It certainly wasn't something I expected, you don't expect too many things when you're in your 90s!"he chuckled.
"But I feel very proud of it and it's nice to know that some of your service has been recognised by others."