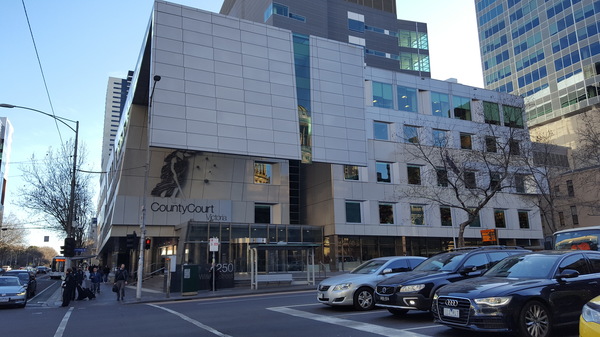 By Cam Lucadou-Wells
A father has failed to give way at the notoriously "complex" and "dangerous" Springvale Junction and crashed into a pregnant driver, leading to the death of her unborn daughter, a court has heard.
Hameedullah Rezaei, 36, pleaded guilty to a charge of dangerous driving causing serious injury, though he still believed he was not "entirely at fault", the County Court of Victoria was told.
He had mistakenly thought he was under the direction of a green arrow when he tried to turn right from Centre Road into Princes Highway about 4pm on Saturday 23 April.
He struck and caused severe damage to the front right of an oncoming Yaris hatch.
Its driver, 19 weeks pregnant, was travelling under the speed limit and obeying a green light in the opposite direction.
Her right shoulder, waist and hips were bruised; she felt her waters break. Several days later, she was induced to deliver her premature daughter.
The baby's heart was slow and weak. She did not take a breath and was pronounced dead minutes later.
The bereaved mother had recovered physically but not psychologically in the aftermath, the court heard.
At his initial police interview, Rezaei claimed the light turned green for him, then the victim's car "jumped out in front of him" with "high speed", Judge Trevor Wraight noted during sentencing on 11 June.
"You asserted … you believed you had a green turning arrow. However it was established in evidence that was not the case.
"Despite the complexities of the intersection, this was a right-hand turn with the use of traffic lights and you were required to give way to oncoming traffic."
A Vic Roads witness told the court that the intersection had the highest number of casualty accidents in the state. A number of them occurred in the same right-turning lane.
VicRoads had plans to remove the right-turning lane as a result, Judge Wraight noted.
Rezaei, married with three children, was an Afghan-born refugee living in Australia on a protection visa.
A Shia Muslim Hazara, he fled to Australia by boat after his brother disappeared at the hands of the Taliban.
Described by referees as hard-working, respected and caring, Rezaei worked as a casual labourer and mechanic.
He had no criminal history, no history of alcohol or drug use or mental health issues – but since the crash he was diagnosed with depression.
Judge Wraight said the crash showed that the consequences of not staying alert at a major intersection could be devastating.
"The community needs to be sent a message that on busy city roads, drivers must remain alert and comply with road rules."
Rezaei hadn't taken complete responsibility for the crash. He recently told a counsellor that "you did not consider yourself entirely at fault", Judge Wraight said.
Rezaei was sentenced to an 18-month community corrections order, including 60 hours of voluntary work and mental-health treatment.
He was disqualified from driving for 18 months.