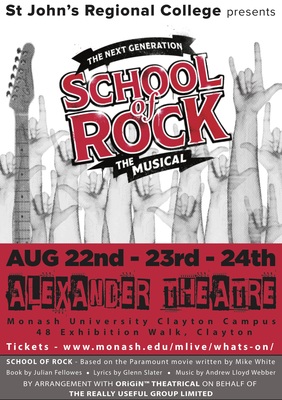 Tickets are now on sale for this year's St John's Regional College Musical 'School of Rock'.
The story of down-on-his-luck rocker Dewey Finn, turning a bunch of stuck-up rich kids into the most rockin' band to enter Battle of the Bands is told like never before!
The students of St John's Regional College have been rehearsing day-in and day-out to bring you a fantastic performance.
Featuring the star of the future student Dion Zapantis in the lead role, once made famous by Jack Black. Dion brings his own style of humour and panache that will leave the house rolling in stitches. It's a rare musical that deftly balances comedic moments, soaring musical numbers and heartfelt moments providing fun for the whole family.
Tickets are on sale now, so get in fast to secure the best seats. Concession and family discount tickets are available. The show will run over 3 nights: Thursday 22 August, Friday 23 August and Saturday 24 August at the impressive Alexander Theatre.
Bring the whole family for a great value night out.
Tickets available at www.monash.edu/mlive/st-johns-regional-college/