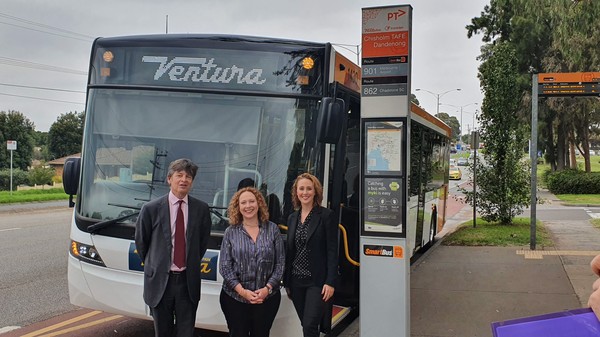 -
Endeavour Hills bus routes will be extended to Dandenong landmarks, as well as the introduction of new weekend services.
From 31 May, five routes will be connected directly to Dandenong Hospital, Chisholm TAFE or Fountain Gate shopping centre.
Extra services, as well as greater frequency and 43 new bus stops, has been announced by the State Government.
Public Transport Minister Melissa Horne said the changes would mean less waiting time and better access to bus services.
Route 861 will be extended along David Collins Drive to connect with Dandenong Hospital and Chisholm TAFE, providing bus coverage for residents for the first time.
Route 842 will be rerouted along Memorial Drive and Heatherton Road to operate direct to Endeavour Hills Shopping Centre.
Upgrades to weekday and weekend services have been announced for Routes 843, 845 and 861.
Route 849 will be removed, with its passengers to be serviced by the upgraded routes 843 and 845.
Details available from May at ptv.vic.gov.au