By Nick Creely
It took a sublime performance from spinner Jarryd Straker to topple the fearsome Buckley Ridges, and now Springvale South have advanced through to yet another Dandenong District Turf 1 grand final.
Ironically, the two sides met each other in the same fixture last year, but it was Malinga Bandara who was the star of the show as the Bloods won easily.
It was a low scoring thriller between the two clubs once again on Saturday and Sunday, with Bloods skipper Craig Slocombe winning the toss and electing to bat at Alex Nelson Reserve.
Star Bucks seamer Jurgen Andersen (4/17) loomed as the danger, finding the wicket of both Nathan King and Michael Vandort early, and when Daniel Watson (1/15) managed to claw out Tim Ford without scoring, the home side well and truly had their backs against the wall at 3/22.
Association legend Steve Spoljaric (24) looked comfortable amid a sublime spell by Andersen, but he eventually snared the key man with a ripping caught and bowled to leave them hanging precariously at 5/50.
The score soon became 7/56 after Rob Peat (3/64) went to work to pick up Slocombe and Jarrod Armitage in a matter of four deliveries, which included an absolute stellar catch from Ben Watson, and the very real prospect of the Bucks winning the match by the end of day one was a feasible reality.
But, this Bloods side never gives in, fighting their way back from despair to somehow post a competitive 147, with Malinga Bandara (25), Liam Hamilton (23), Matt Wetering (31 not out) and Straker (12) showing nerves of steel to rummage together enough runs to defend.
At stumps on the first day, the Bucks seemed home at 2/65, and despite star captain-coach David White falling in the final moments of the day and the ball appearing to turn square, the visitors were well and truly in the box seat.
And they couldn't have seen it coming at all, with one of the great finals spells from a spinner that has taken 22 wickets post-Christmas and become arguably the most dangerous tweaker in the competition.
Straker (7/34) completely dismantled one of the most seasoned batting orders in local cricket, turning the ball a mile, bowling with pin-point accuracy to have the Bucks searching for an answer to stop him.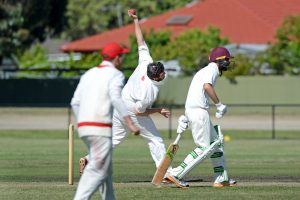 But they just couldn't, falling for just 116 in 61 overs, a dramatic collapse of 8/51, with Daniel Watson contributing 43 of those runs himself.
Straker's remarkable spell included 28 overs, with 12 maidens, while Malinga Bandara (3/51) provided plenty of support as the pair bowled 55 overs between them.
The Bloods then made sure of their work despite losing 2/10 in their second dig, batting out 29 overs to finish on 3/52, and more importantly, a well-deserved grand final spot in a few weeks' time.
It was an even more extraordinary contest down at Frawley Road, meanwhile, with the heroics of Matt Chasemore almost stealing a win from the clouds against Hallam Kalora Park.
But cricket's a cruel game, and there's no tomorrow for the Bears, who fell agonisingly short by just the seven runs.
Once again, it was a game where momentum shifted as quickly as wickets fell, with the Hawks winning the toss and batting on day one.
Reliable openers Ben Hillard and Leigh Booth knocked around 38 for the first wicket, but the Bears went to work to rummage through the top order, with the Hawks falling to 5/75, before a stunning surge by Chasemore (4/26) saw the home side in disarray at 7/87, after snaring the dangerous Jordan Hammond, Ryan Hillard and Ciaron Connolly without them getting away.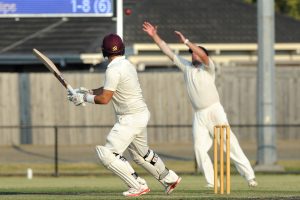 It took a brilliant, brave knock from Kevin Kean (60) to turn the tide, combining superbly with Peter Sofra (24) and Chris Pereria (19) to completely shift the momentum and lift the home side to 206.
The Hawks managed to snare a wicket right before stumps, with Will Whyte (4/53) breaking through with only minutes to play to leave the visitors 1/1.
But a new day brings a fresh start, but the Hawks were simply unstoppable, with Whyte and gun quick Jordan Hammond (5/60) piercing through the top order with precision, snaring the dangerous Nathan Pilon in his final innings in the DDCA for a duck, and suddenly at 5/27, the Bears may have been already thinking about Mad Monday.
But not Matt Chasemore, who knuckled down with the same intensity that has served him so well throughout a glittering career.
Starting slowly before gradually accelerating, Chasemore looked indestructible, combining for strong partnerships with Jack Phillips (20) and Brendan Rose (17) to keep his side in it.
Batting with the lower order, the skipper plundered a glorious 101 off 181 balls, batting for over five hours to draw his side within reach.
'Cheeks' passed 100 with a shot through the slip region, but was out moments later, caught behind off Whyte, with another 14 runs required with a wicket remaining.
Hammond, who simply bowled superbly through the innings, snared Jarrod Goodes (30) to seal the win, with the Bears falling over for 199.
It now sets up a mammoth preliminary final between Buckley Ridges and Hallam Kalora Park. The Bucks lost the corresponding fixture to Mordialloc last year at Park Oval.
The winner of the match will take on Springvale South in a standalone grand final on 23 and 24 March at Carroll Reserve (St Mary's).