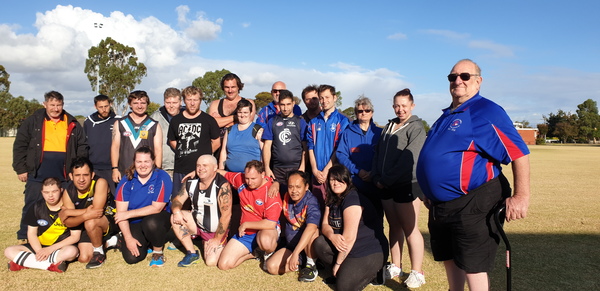 By Cam Lucadou-Wells
Sandown Cobras All Abilities Football Club is a little heralded success story, making grand finals in each of the past three years.
But with the FIDA League season set to kick off on 4 April, the side is just short of the required 22 players.
Coach Doug West says the Edinburgh Reserve-based club is a sporting and social outlet for its male and female players with intellectual disabilities.
It's like a family, he says.
As the squad trains in late-afternoon sunshine, he points out how each player has kicked on at the club.
Last year, three players were selected for Victoria.
Mr West's grandson used to stay in his room all weekend before playing FIDA League. Now he's a twice-selected state representative and basketball coach.
For Mr West, his passion has been to get kids outside playing sport over the past 50 years.
"There's a chance for them to do things and further themselves."
One principle of the club is to treat everyone as equals.
"We're very strict on discipline, to make sure everyone does what they're told.
"We want them to respect each other, as well as other players, umpires and supporters."
To play with the club, contact Mr West on 0407 837 667 or Hannah Sacks at hannahsacks@hotmail.com. Sponsors and volunteers are also welcome.