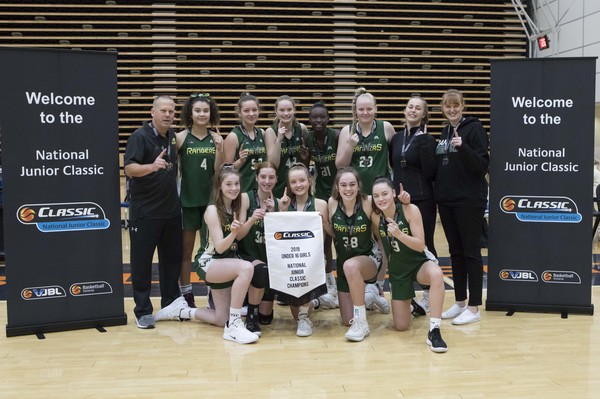 By Hayley Wildes
The National Junior Classic is one of the most prestigious and hard-fought junior basketball tournaments in the nation. Over the Queen's Birthday long weekend, the very best junior teams from across Australia descended on Dandenong Basketball Stadium and the State Basketball Centre for their shot at the glory.
The under-16 girls from Dandenong headed into the tournament with a clear goal in mind; being crowned champions, and after a gruelling three-day run they completed their goal in resounding fashion.
Just playing six games in three days is brutally tough, so to perform as well as they did – going through the tournament undefeated – truly proved the team's standing among the best in the country.
It wasn't always easy. In its second game, a clutch Nyadiew Puoch bucket with just seconds remaining saw Dandenong claim a two-point win, 53-51, over the Sydney Comets in thrilling fashion.
As coach Lloyd Klaman explained, that game served as a reminder to the team that every game must be played on its merits.
"We had a tough game against Sydney where we just struggled – I thought we came out a little bit over-confident," Klaman said.
"That was kind of a wake-up call for us and after that we played a lot better."
And speaking on that game-winning bucket, Klaman had nothing but praise for Puoch.
"We called a time-out, took the ball on the sideline with six seconds to go and Nyadiew got the ball, made a move – and actually got fouled on the shot as well – but made the bucket with three seconds remaining to seal the game for us," he said.
"Nyadiew was outstanding and she's been outstanding all year – she's tall, athletic and a really good kid who's going to go far.
"Dallas Loughridge, who won the tournament MVP, was another one – she's often the smallest player on the court.
"She's the point guard, but she can score, defend and she's probably the toughest kid on the floor; she's really hard-nosed."
Being hard-nosed and having a desire to defend and compete are qualities that Klaman loves to see from his team and it was these qualities that ultimately led this Rangers squad to great things.
"They play hard for each other and they're a really tight-knit group, but defensively we're just really tough," he said.
"The big thing is that we just want to play hard for each other, enjoy each other's success and defend.
"We know we're not going to be able to shoot well every night, but we know we can defend well every night."
The grand final against Nunawading was proof that Dandenong's defence is its real strength. Holding that Spectres to just 42 points saw the Rangers come away with a strong 13-point win as centre Myah Healey top-scored with 15 points.
Having added a National Junior Classic title to their list of achievements, which also includes an Eltham Dandenong Junior Basketball Tournament title, the under-16 girls from Dandenong have another massive accomplishment on their mind; Champions of the Victorian Championship (VC) division of the Victorian Junior Basketball League (VJBL).
"When we sat down at the start of the season we had three real goals; we wanted to win the Eltham tournament, which is basically the biggest tournament in the southern hemisphere with 100 teams in our age group, we wanted to win the National Junior Classic and we wanted to win the VC of the VJBL," he said.
"We've ticked two of those boxes and we've got one more to go, but that's going to be hard; everyone is gunning for us.
"We get everybody's best game each week, which I think is good for the kids – they get that challenge every Friday night."
This talented Dandenong squad has handled every challenge that has come their way so far and you can be sure they'll give it their all in their quest for the trifecta.