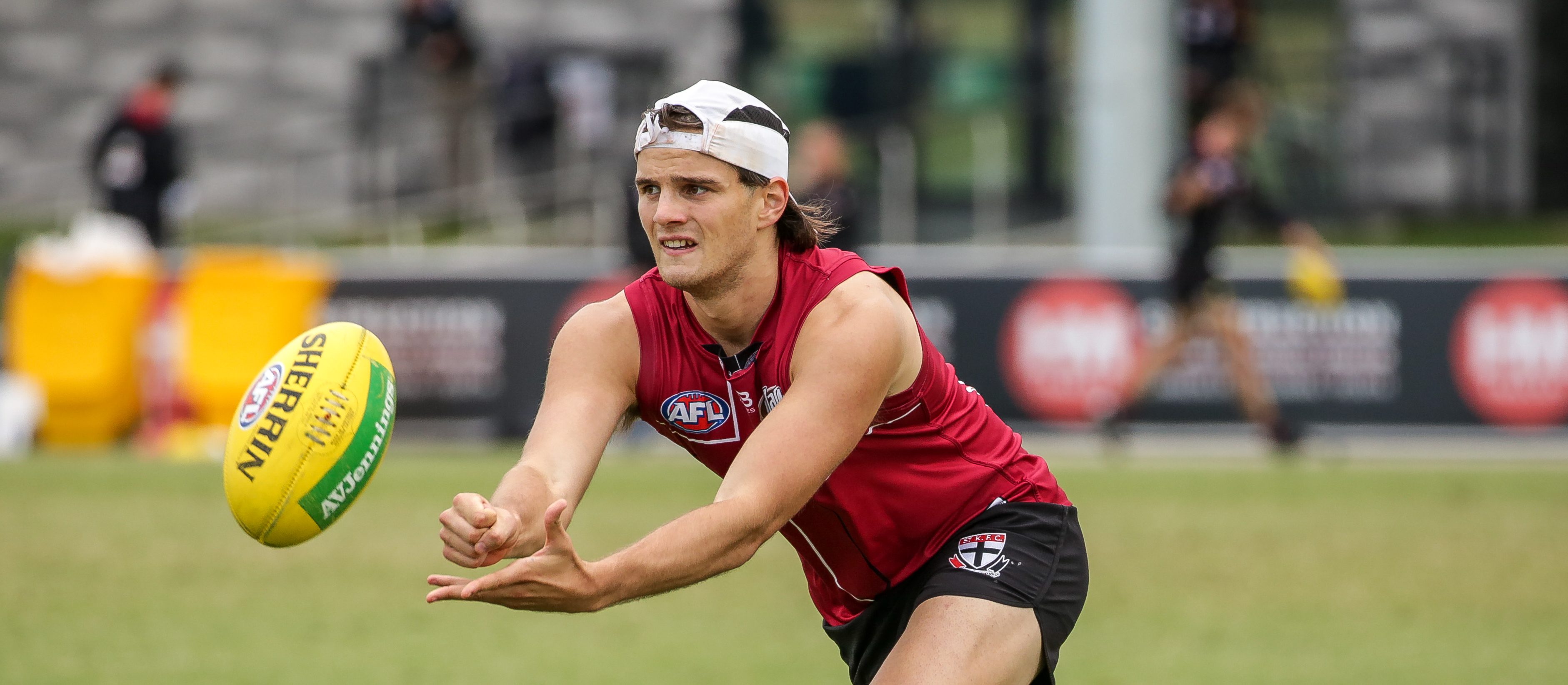 By Tyler Lewis
Hunter Clark is emerging as a future star of the AFL, and with his elite skills and pure hunger for success, he is lining up for a long and prolific career at the highest level.
The young Saint and former Dandenong Stingray began his football journey like many draft prospects do – without much knowledge of what the future has in store, while balancing the rigours of his education.
But for Clark, his dominance on the field in the then TAC Cup meant the balance was skewed and the education became an enjoyable social interaction.
"I wasn't very good at school, I enjoyed the social side of it and was good at English and all that but wasn't great at it," he said.
"I got an invitation a couple weeks before (the National Draft), saying 'All those invited please come up to Sydney', I think it was about 20 that get invited.
"I had a pretty good idea that I was going to get picked and it was a bit of a stress relief (the invitation) but I was excited to get the underage process done in a way and get into the AFL.
"My manager was telling me for a few weeks that the Saints were picking me up at pick seven.
"But I wasn't 100 per cent sure because they told me during the year if they were going to take me they would see me before the draft and didn't, but my manager told me they were playing their cards close to their chest.
"I had a bit of doubt where I was going to go but he was pretty confident the Saints were going to take me, I didn't think I was going to go any higher than seven or eight but it was unreal that they took me and I got to St Kilda."
After achieving his childhood dream, Clark reflected on the short period of time in which he got to soak it up.
"I got drafted on the Friday and pretty much the Monday morning we started," he said.
"They eased us into it a lot as they don't know what our bodies are like, like our injuries, as we've never been in an AFL environment.
"We started the Monday but it probably took us two weeks to get fully into hard training – it was a nice way to ease into it.
"I was pretty lucky when I got picked up we were still at Seaford so the end of November until the end of March I got to stay home with mum and dad.
"I moved just to be a bit closer so I wouldn't have to have early mornings and as much driving, which I could've managed to stay at home but I am living with a couple boys now and I am enjoying that.
"I am with Nick Coffield and Doulton Langlands – they both moved out of home as well."
While AFL players are often criticised by their actions on the field in the four quarters of the weekend, the 100 minutes on the biggest stage is the tip of the iceberg of the tiring work elite footballers put in.
In his second year of football at the top level, Clark walked the Gazette through the weekly rigours of an AFL footballer.
On Sunday 7 July, St Kilda travelled to Tasmania to take on the in-form Kangaroos at their second home ground, Blundstone Arena.
Following the disappointing loss, many supporters would believe when they switch off their television at 6pm that their beloved players do the same, but Clark says that isn't the case.
"If your family and friends come over you get to have an hour to hang with them, but within that hour you have to do recovery so massage and stuff," he said.
"Then it's straight to the airport and we get there around 7.30 and fly out around 9-9.30.
"Tassie was pretty good because it's not a far flight so we got home around 11pm but when we played Gold Coast the other week we got home really late."
Depending on the day of the game the upcoming week, Monday can be a day that rotates in purpose.
"It depends whether it's a seven or eight-day break," he said.
"Monday is usually a small review the day after.
"We will then get into small groups and do recovery.
"Just making sure you tick all the right boxes and that sort of stuff."
Two days after the conclusion of the match, players are assumed to be ready to get into the hard work for the following week, but Clark touched on the long day that is Tuesday before the day off on Wednesday and the unique St Kilda courtesy rule in the weight room.
"Tuesday is usually a main day – we will get in there at 7.30am and leave maybe 4.30pm," he said.
"We will do another review of what happened on the weekend – what went wrong, what went right.
"We then get the footys out, kick the legs over a bit, and train the things that went wrong in the game.
"If our entries were poor inside 50 we will work on that, but lightly so it isn't too taxing on your body.
"We then do weights and we have to wait for the older boys so we get stitched up a bit there.
"It is the way it has always been, you work your way up and the older boys have families and kids at school so its fine.
"Wednesday is a full day off to yourself, so Tuesday night into Wednesday is probably the best part of the week besides game day."
With Wednesday off, the players are expected to be raring to go for their final session before selection on Thursday. Clark says it is another long day with the nervous wait in the gym.
"Thursday is a big day – we get in 7-7.30am," he said.
"We usually do weights in the morning (and) then we go over the weekend's game coming.
"What we are going to do individually and as a team, if we are working on controlling the ball and getting our marks up we will do some match simulation working on that.
"You get individual tapes after they have been coded and the line coach, whichever position you played that week, will pick out things they noticed.
"I like to go through and see the things I can improve on and I focus on that for the rest of the week.
"We will do weights again and some meditation so (it's a) taxing day physically but they make sure we get some recovery in there as well.
"The coach will come around to each player while we are doing weights, he will just tap you on the shoulder and say you are in and what he wants from you – if you aren't he will just say why and what you need to work on to get back in.
"It's always a nervous moment for the boys because you want to play and it is late in the week to find out."
With Friday being the last day of the week before the weekend and, in this instance, the day before St Kilda's recent clash with Geelong at GMHBA Stadium, Clark explained the importance of the final session.
"Friday is captain's run," he said.
"We get the footys out, high skills, lots of kicking and lots of handballing.
"We will play some games at the end to get the energy and vibe up."
Saturday 13 July was the all-important clash for the Saints against the ladder-leading Cats at their fortress down in Geelong. Clark played out of his skin, recording his personal best disposals while lining up on a childhood hero in Gary Ablett Jr.
"Saturday was game day so the day is ours until we are required to be there," he said.
"I like to keep it pretty chill – go for a walk in the morning or sometimes head to the club and shoot some hoops.
"We have to get there no later than an hour-and-a-half before the game but I like to get there two hours before, giving myself time in case of traffic.
"I am a little nervous in the car beforehand but once I see a few of the boys I am alright.
"I suppose it depends on how confident I am from the week before."
Shadowing his personal best match against the Cats, Clark was prolific in the Saints' first win under interim coach Brett Ratten against the Bulldogs on the weekend, collecting 26 disposals and two remarkable goals, the first instance the former Stingray has kicked multiple goals at AFL level.