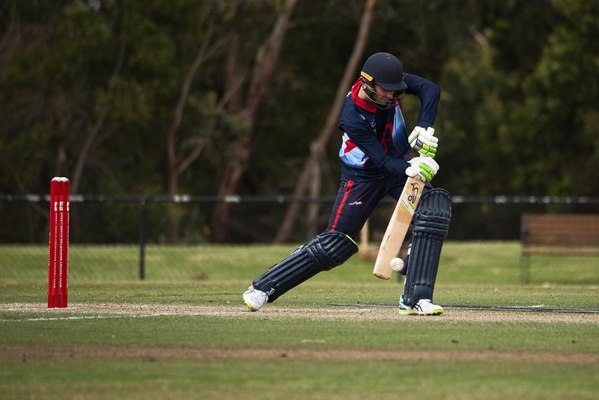 By Tyler Lewis
Every time Comrey Edgeworth thuds his Kookaburra bat into the wicket, turns his head over his left shoulder and looks at the bowler steaming in, it is a singular battle he cherishes.
Whether it is scoring a run or depriving the bowler of his scalp, every over has six sets of contests he wants to win for his beloved Dandenong side.
Labelling himself as a cricket nerd, Edgeworth thrives on the challenge of a bowler vying for his wicket.
"I would say I am an absolute nerd of the game," he told the Journal.
"I adore the game, I love the stats, I love the contest between bat and ball – it is something that really excites me.
"I don't really get nervous, I back myself and I guess if you are not good enough, you are not good enough is the mentality I have.
"The mindset going into every ball is 'win this ball, win this contest'.
"If you win this contest, getting a run or not going out – whatever your goal is win that contest and the next ball is a new contest.
"I know my game, I know what gets me out, so I try to limit the opportunities for the bowler to get me out and maximise my ability to score runs.
"Whether that is through the offside or through the leg side."
Before cementing his spot in the top order for Dandenong, the prelude to his building career all began watching his dad play, before it was time for Edgeworth to don his own creams and etch his name into history.
"My first memory of cricket was hitting balls with a couple mates while watching my dad play his competitive cricket on the weekends," he said.
"I was probably about eight years old in the under-12s (when I started). Our final year of under-12s we had a pretty good team – (we) won that season undefeated, and won the premiership comfortably.
"I did play a fair bit of representative cricket as a kid, and played the CMCA under-14 team.
"(I) Played Hatch for the Elsternwick Cricket Club, played the CMCA under-16 team as well as a bottom ager. I played the Bayside Breakers as a top ager in under-18s, we won the state championship that year, played on the MCG.
"That was one of the highlights (of junior cricket), playing on the MCG as a 17-year-old."
In the 2017/18 season, Edgeworth burst out of the blocks from his previous years in the lower grades with a monstrous year in the seconds. Consequently, the form saw the classy batsman earn a first XI debut and have well over 500 runs to his name before Christmas.
Despite still having some criticisms on the season, the summer was still a cherished one for Edgeworth, who said the feeling of that type of form is startling.
"It is quite an amazing feeling when you're batting and you don't worry about going out," he said.
"There is no nerves, no second thoughts about 'what if I miss this' or 'what if I knick this' or 'what if I hit this to the fielder'.
"You are just in the zone and know your game inside out, and it just flows. You get in that sort of form and you feel like nothing can go wrong.
"At that period time, the ones were potentially undefeated or had only lost one game so they were going really well in the top four.
"The twos were going well as well, so the message from the coach was 'keep doing what you are doing and when a spot does open up for it you will be ready to go and take it with both hands'.
"I did get my opportunity in that year, I got a couple of scores but my form faded away unfortunately."
For many young cricketers, they have an abundance of influences, and along with his dad who he speaks to often about his game, Edgeworth has the luxury of a running between the wickets with one of his biggest influences.
"He (dad) is absolutely someone I talk a lot of cricket and a lot of my batting with," he said.
"He was the junior coach at Kingston Heat when I started so he coached me all the way through.
"He has coached a couple of other guys who have gone on to play district ones and twos – he is definitely one who I lean on for cricket knowledge.
"In terms of people at Dandenong, Brett Forsyth is a really good one who helps out with all the younger batsmen at the club.
"Winning the Ryder last year he has a wealth of knowledge and talent, he is always happy to help out with my technique and throw me balls whenever.
"It is a good thing having someone of his experience giving back to the club, it always helps."
While loving the statistics of the game, Edgeworth is hopeful that in the many years to come, aside from a premiership, one of the achievements to his name is one that can't be recorded in the MyCricket data base.
"The main reason we play the game I guess, I want to win a couple flags," he said.
"I played in the white ball one a couple years ago but I did miss the two-day flag. To play in a two-day premiership is something I would love to achieve.
"But hopefully I am still enjoying my cricket like I am today. I am just really enjoying the cricket with my mates."