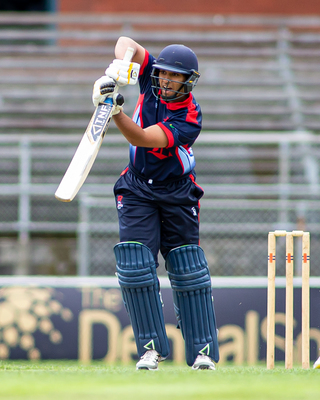 By Tyler Lewis
Triyan De Silva is joining the dots to a bright future at an elite level.
The Dandenong Panther all-rounder has been selected for the Vic Country squad, who are currently competing for the 2019-20 Under-19 national title in Western Australia.
Including the Vic Super Slam, De Silva has only donned the Panther threads on 12 occasions, but to him, his decision to move from Monash Tigers has been a great decision for him to ply his craft with the blade while working closer with his Vic Country coach.
"I wanted to be a wicket keeper but my dad told me it is always good to be an all-rounder because you can make it into the team as a batter or a bowler," he told the Journal prior to departing.
"I just try to do as much as I can with the ball and as much as I can with the bat.
"I guess the last year or two I wasn't really enjoying my cricket there (Monash Tigers), I just started to lose a lot of passion for it.
"Mostly at Dandenong I have been working on my batting, being at Monash I was probably seen more as a bowler who can hold a stick.
"It has definitely been one of my focuses being at Dandenong so far. I just needed a fresh start at a new club with new faces and new people.
"Brett Forsyth coached me in the Pioneers last year, in the under-18s, and I had a chat to him and he just said Dandenong would be more than happy to have me come to them next year.
"Nick Speak has been really good for me; he has been really simple about how to play my game which is a thing I struggled with.
"I always used to overcomplicate things but the way 'Speaky' has gone about it has simplified the game for me and made it a lot more enjoyable and easier to do."
The Victorian state team has recently looked to some of the developing talents across the state, some De Silva has recently played with and drawn some inspiration from.
"I played with Jake (Fraser-McGurk) and Mitch (Perry) for so long and not too long ago as well," he said.
"I played in the under-17 team with Jake, Mitch and Will Sutherland, Zach Evans and Sam Elliot who are all contracted now.
"I played with Jake for so long it is pretty cool to watch him play professional sport and do well, it is kind of like a motivator to keep going and get to where they are.
"What they have done has shown it is possible and it isn't far away."
De Silva first begun playing cricket in the backyard before his neighbour, the Rowville Cricket Club president convinced him to come play competitive cricket. Fast-forward to now, the hype of wearing the big V hasn't gone to the youngster's head as he embarks on the start of a promising cricketing journey.
"It is obviously really important to do well," he said.
"I am trying to look at it as another couple of games and be grateful I am in the team, and get to go to Perth and have some fun with some great boys.
"In this tournament I would like to go into every game thinking I am going to give it my best go.
"Even if I bowl well I am not always going to get 5fa, just do the best I can and most importantly have fun, hopefully win a national title, I don't think Vic Country has won one in a while.
"Hopefully (I can) finish the year in the ones (at Dandenong) and push myself up for the futures league."
The under-19 tournament began on 2 December at Iluka Sports Complex in Perth when Vic Country took on South Australia to kick-start the 10 day tournament including eight matches if the Vics are to make it to the big dance.