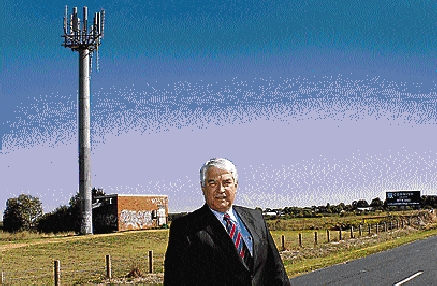 By CAMERON LUCADOU-WELLS
WHAT DO YOU THINK? SCROLL TO BELOW THIS STORY TO POST A COMMENT.
A SCHOOL and its neighbouring residents say they are fed up with the number of mobile phone towers blotting Bangholme's green wedge vistas.
Kerry Bolger, principal of St Leonard's College's Cornish campus, and adjoining residents are opposing a proposed 31-metre Optus mobile phone tower in River End Road – believed to be the fifth tower from a range of telcos and all within a 2.5 kilometre radius.
The proposed tower, which is yet to get planning approval by Greater Dandenong Council, would be about 428 metres west of the nearest school building, and 245 metres from the nearest residence.
"We don't see the need for any more," Mr Bolger said. "The parents are always concerned about telephone towers being too close to our buildings."
Resident George Petrakis, who rejected an approach by Optus for the tower to be placed on his land, said there was a feeling that towers were getting "bunged everywhere".
"There are some people here who think we need more towers in the area. If the reception is more important to them than the area they live in, they should move."
In a written submission, Optus's consultant Aurecon stated the tower, which would transmit on Optus's 2100MHz band, would allow data to be more quickly sent and received across a 35-kilometre radius. "It is considered that [the tower] will not compromise the purpose of the [green wedge] zone."
Defenders of the South East Green Wedge secretary Barry Ross said the affected section of Mornington Peninsula Freeway was one of the "few spots where you can get expansive, uninterrupted views across the pleasant green wedge countryside from a major road". "It [the tower] will stick out like a sore thumb."
Greater Dandenong Council is expected to vote on the proposal next Monday.