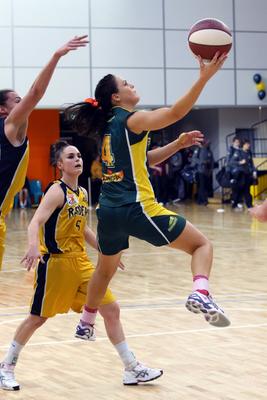 By ROY WARD
AFTER winning the Barbara Barton medal as best on court in the South East Australian Basketball League women's championship game on Saturday, Dandenong Rangers guard Amelia Todhunter will experience her own private 'Mad Monday' this morning.
Todhunter will be on a 6am flight to Perth to begin her time with WNBL club West Coast Waves.
Todhunter, watched on by her parents who travelled from Albury for the game, scored 15 points, grabbed eight rebounds and dished off six assists to help the Rangers to their third-straight SEABL women's championship with a 65-48 win over Knox Raiders on Saturday.
The Rangers became the first women's team to score a three-peat of league championships.
Todhunter played a key role early in the game scoring eight points in the first quarter as many of her teammates struggled to score in the opening minutes.
"I knew we had to get off to a good start," she said.
"We all knew that and I think early on I just got some open shots and knocked them down."
Todhunter said she was excited about heading to the Waves where she could earn the starting point guard position.
''I can't wait to get there and get started,'' she said.
As the Rangers players celebrated their historic achievement, it also dawned on some of them that the team is unlikely to be together again next season.
Coach Larissa Anderson is expecting her second child in November and is yet to decide if she will coach again in 2013 while several players, including Todhunter, may have other options following the WNBL season.
"It's only starting to sink in now that we may not play together again," she said.
"For the six or seven of us who have played in all three championships it's been so special.
"I hope we can all get back together again next year but who knows what will happen."
Todhunter also praised the efforts of her teammates, especially leading into the finals.
"It's amazing," Todhunter said.
"I'm so proud of the girls and how hard we have worked this year.
"We played Knox twice at the start of the year and lost, since then we have just worked out butts off to get to this point."
For all the latest breaking news, visit greaterdandenongweekly.com.au. Also, follow the Weekly at facebook.com/greaterdandenongweekly or on Twitter @DandenongWeekly.