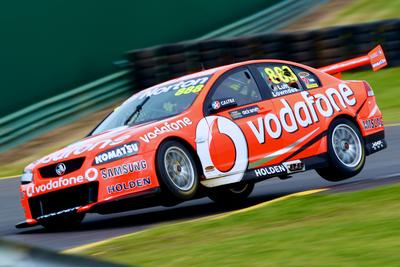 By CAMERON LUCADOU-WELLS
ORGANISERS are boasting about a surge in crowds for last weekend's Sandown 500 despite a sticky start to Sunday.
Sandown Raceway manager Wade Calderwood said crowds were up — 57,000 over Friday, Saturday and Sunday compared to 49,000 last year.
He said crowds had filled the track's car parks on the last day, watching Craig Lowndes grab the endurance-race title.
Before Sunday's culmination, unknown people had avoided security staff and glued locks at two perimeter gates before the race.
''It was a very minor incident — no impediment to the event at all. They were bolt-cut then we fixed them up later,'' Mr Calderwood said.
''It has happened once or twice before. There was no rhyme or reason for it.
''If someone was trying to hamper the event, it has had the opposite effect. It's been one of the most successful events we've had.''
Mr Calderwood said the return of the endurance race to Sandown, after a hiatus at Phillip Island, was a crowd-pleaser.
''It returned to its place as the traditional lead-up race to the Bathurst 1000.''
A ban on bring-your-own barbecues was lifted for the weekend.
About 160 patrons brought in their barbecues, which were inspected by safety officers at the gates. One of the barbecues was rejected on safety grounds.
Last month, neighbouring residents complained to the Weekly about the amount of racing noise from the track on most weekends.
Mr Calderwood said the event was a boon for ''all the locals that love the track''.