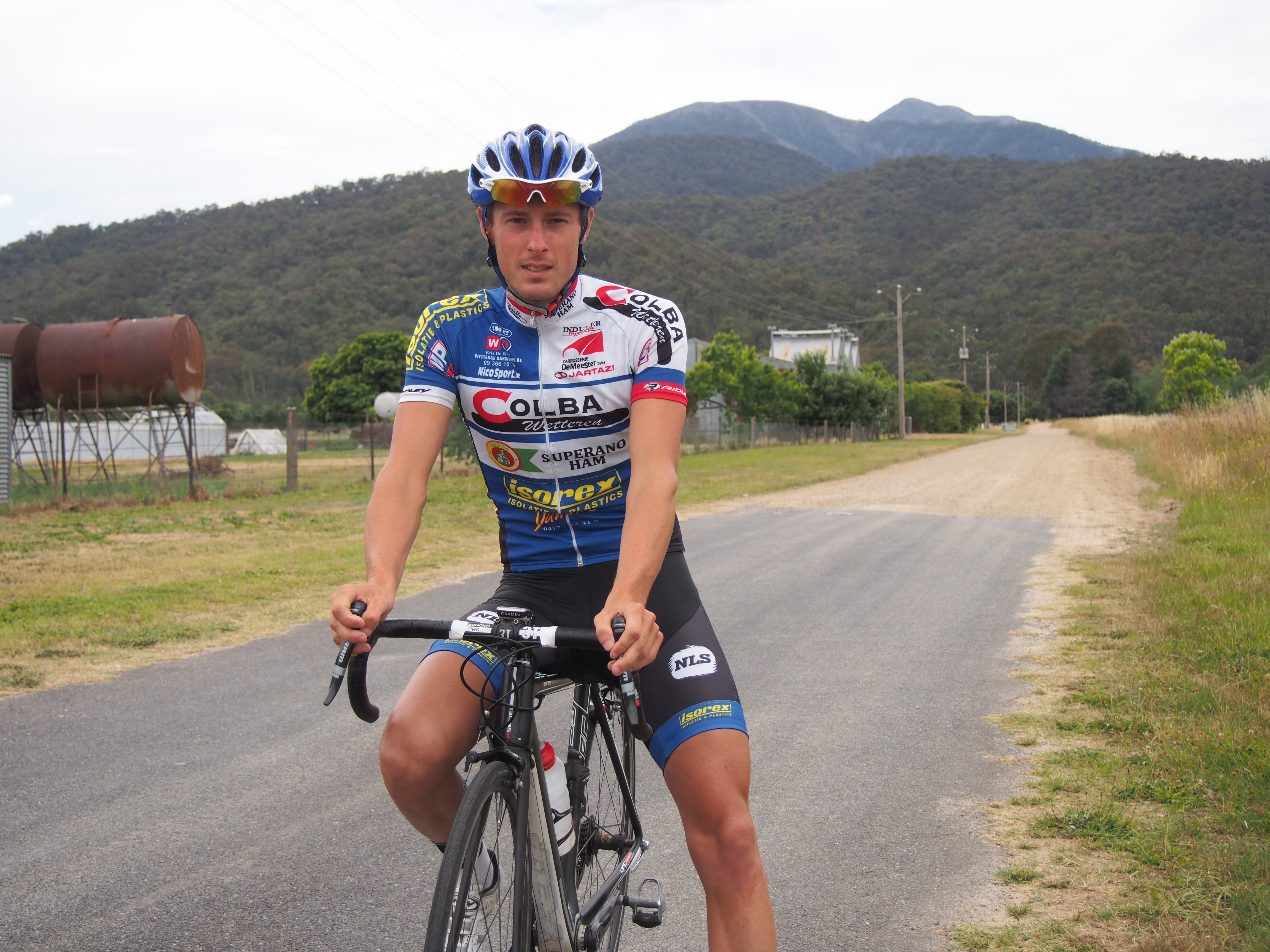 When a young James Mowatt first got on a bike, he thought he was simply following the path of his stepfather Rodney Clark, an avid cyclist.
But those mimicking moments started a journey that recently led the 22-year-old Rowville lad to signing his first full professional contract with Belgium road-cycling team Colba Superano Ham.
It came after an impressive second half of 2012 in which Mowatt recorded some exceptional results in the European amateur cycling races.
In seven years of competitive cycling, the former student of Maranatha Christian School, Dandenong, has gone from cycling with his stepfather to a national-level mountain biker, and finally a professional road cyclist.
Now it looks more likely than ever he will follow a different path — the same cycle tracks as his hero, Australian Tour de France winner Cadel Evans.
The two cyclists have not only shared the same grounding in mountain bikes but also the same coach: Damien Grundy mentored both men. Mowatt is now coached by respected cycling figure and SBS television personality David McKenzie.
"I finished fourth in the nationals for mountain biking and when I finished under-19s my coach said to me, if I wanted to make a career out of cycling I would need to head to the road because that was where the money and sponsors were," Mowatt says.
"So I went and gave road racing a try and luckily I was better at it, so I went from there."
Mowatt spoke with the Journal while back home in Australia for the summer. But he's not spending it lounging around by the pool — instead he's in the northern Victorian town of Bright for a training camp with other young cyclists.
He has spent at least nine months in each of the past two years plying his trade in Europe as an amateur with various French teams. Beside the demanding training schedules, he's adapted well to living overseas, still finding the time to improve his French to the point where he can converse with his teammates and coaches.
He will return to Europe in early February and go directly into preparations for the next cycling season.
"We will go straight into a training camp in the south of Spain for two weeks, then we have the first big race in Belgium and go from there," Mowatt explains.
With the average age of cyclists on the best professional teams at 28, he knows he still has several years work ahead of him to get stronger and more capable of finishing the longer, most gruelling stages of major professional races.
But his results in 2012 showed professional scouts he has the potential to make all those improvements and become an important cog in a professional team.
A ninth-placed finish in the Grand Prix de Nogent-sur-Oise in April was a major confidence boost. It led to several top-10 finishes in other races, capped off with a win in the Grand Prix de Pont-Saint-Vincent in July.
That win led to Colba offering him a 'stagiaire', or trainee spot, in its side for the final months of its season.
Teams make these offers so they can see how young cyclists handle the major step into professional races.
Mowatt says the move was "as challenging as anything" he had done in cycling, with the race distances almost doubling, along with the average speed of the riders. His races went from
covering 160-180 kilometres to stretching to 220-250 kilometres, while the average speed of races was 50km/h.
But having the support of team coaches, dieticians, doctors and even a masseuse and a chef helped Mowatt score a full contract with the team.
"I was interested to see how I went in larger races," he says.
"It was a big step forward for me and a rare opportunity; teams can have up to two stagiares but don't always make use of those positions.
"The support was a big help for me, having the dietician around made a big difference in helping me sort out my nutrient combos before and during races. The masseuse and the coaches also let you focus totally on the races."
Mowatt is considered a sprinter in road racing but can also complete small climbs, which gives him the chance to get in position to win stages during major races.
He says he still has much to learn about how to succeed as a professional cyclist but will use his year-long contract to take his cycling to the next level.
"The best riders know how to get the best positions heading into those final sprints.
"That comes from experience and learning how to get your teammates to take you to the front. I've got a fair bit to learn in that respect."
For now, all Mowatt's work is about improving his riding, one kilometre at a time.
"It's pretty exciting but I have much more work to do. I mix well with my teammates and some of them have ridden in Tour teams before, so I've learnt a lot from them as well."
Although riding in the Tour de France is still some years away, now that he is a professional rider the goal is close than ever. "It's what I have dreamed of since I first got on a bike. It's all I ever think about when I'm on the bike, where I want to be in a few years — the Tour de France."