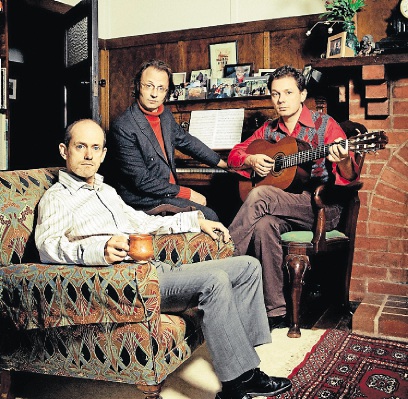 By HAYDN GODONY
A 'crazy' musical threesome, Tripod are comedy festival favourites both at home and overseas, singing ratbag songs that often disguise finely tuned harmonies and skillful, talented playing.
Tripod also displays a Laurel and Hardy-type comedic alchemy, though this time bonding three jokers, instead of two, into one act.
The trio — Yon, Gatesy and Scotty — are now touring their newest show Men of Substance, which took a year to write. They'll be in Dandenong on Wednesday, March 6. "We all turned 40 last year, so a lot of this show deals with whether we've matured — or not. We'll let the audience draw their own conclusions," says member Scott Edgar.
Their tour brings them into familiar territory. Edgar said Tripod's members all spend a lot of time on the Peninsula. The stone house in the photo is one of his in-laws' holiday house in Shoreham. Simon Hall's family has a house there too.
"So we often do band-camp on the 'hinterland', including writing a lot of this show, which is all new material. The band camps are about the 5 per cent inspiration — the perspiration comes later," said Edgar.
"A lot of songs just start with jamming, messing around with tunes and choruses. Then we look at it again the next day and pick the good stuff from the bad stuff."
Tripod has tried out the show for two weeks at the Sydney Opera House, seeing it "as just a lead-up" to their upcoming shows in the south-east, including Dandenong. "We felt we had to prepare ourselves properly."
Fans shouldn't be concerned that some of the trio's tried and true material won't get a run.There are older songs, like Sweet Caroline that we wheel back out occasionally. The longer a song sits in our repertoire the longer it tends to get, as you think of more jokes to put in. Songs evolve."
After many years in the comedy game, Edgar said, the group realised it was always learning. "You always feel like a baby when you walk onstage with a new song. It can be petrifying."
Tripod is at the Drum Theatre on Wednesday, March 6. Details: 9771 6666 or drumtheatre.com.au.
For all the latest breaking news, stay with this website. Also, follow the Weekly at facebook.com/dandenongjournal or on Twitter @DandyJournal.