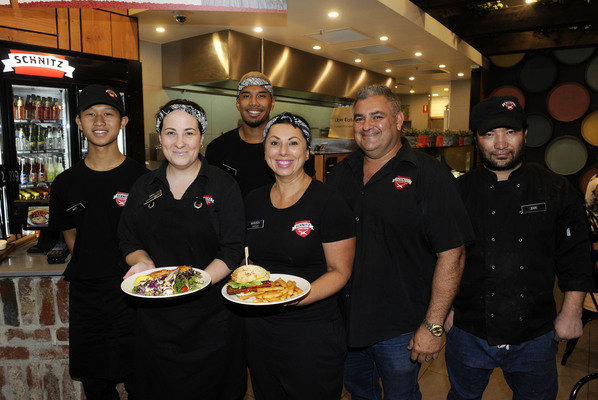 By Cam Lucadou-Wells
There's a new schnitzel in town called Spice of Life – and that title is certainly no lie.
Aptly to be launched for Harmony Day, this sizzling morsel has layer on layer of heat.
From the stunning orange paprika crumbs to the hot curry mayo and two varieties of sliced fresh chillies.
The relief comes from the thick slabs of fresh cucumber, cos lettuce and sweet roasted peppers within the stacked bun.
The fresh ingredients and the shallow-fried schnitzel give it a credible home-cooked feel.
You can find this spice-lover's dream soon within an expanding menu at Schnitz inside Armada Dandenong Plaza's food court.
Owner Martin Catania also points out the diversity among his 20-strong workforce, who represent 15 nationalities.
Backgrounds that range from Afghanistan to Albania, Australia, Cambodia, Egypt, India, Malta, Mauritius, Pakistan, Philippines, Serbia, Singapore, South Sudan, Sri Lanka and Vietnam.
Often, staff share traditional cuisine during feast-times on the cultural calendar.
"We love learning about our staff's different cultures, traditions and of course being foodies, the amazing food from their country," Mr Catania said.
"You walk through Dandenong and it typifies where we're at.
"From a business perspective, it's great for the customers. They have that connection with us – especially for migrants with English not as their first language."
Mr Catania and wife Marusca hail from a Maltese background. As passionate foodies, they've happily left running Subway fast-food franchises to the freshly-prepared meals at Schnitz.
Marusca is constantly travelling the world and taking classes to build her culinary repertoire and treat her family and friends.
Her next class is about low-carb cooking and "sharing" type of foods.
An expanded more diverse menu is set to be launched on Harmony Day on Saturday 16 March.
There will be a new variety of coleslaw brandishing a pot pourri of fresh herbs, as well as a vegan-friendly vegie schitznel, sweet potato chips and gluten-free corn-based crumbed options.
On the day, they will be giving away one free large chips with every Spice of Life roll or wrap sold on the day.