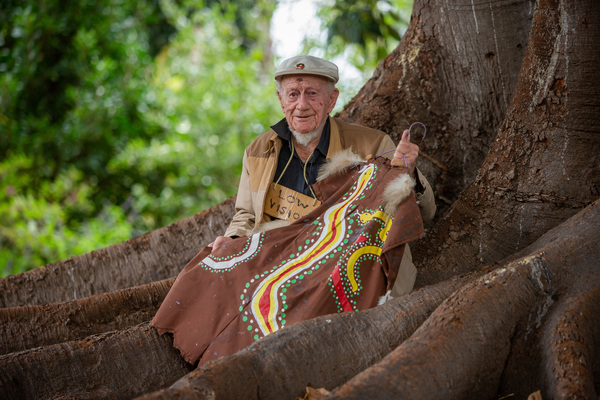 By Cam Lucadou-Wells
For 18 years, Granddad Gardiner bestowed a great gift to an Aboriginal dance group of children.
From 1992, he founded and led the Bunjil Aboriginal Culture and Dance Club (ACDC) of Wurundjeri and other Nations.
The Dandenong-based group staged more than 250 performances. As they danced, the children proudly promoted Aboriginal culture and spirituality.
Now Grandad is 90, legally blind and lives in Springvale. And those memories, embodied in props, costumes and artefacts, are on exhibition at Heritage Hill in Dandenong until 12 July.
It all started with a letter from the then-VFL. It was sent out to schools to form a group of Aboriginal dancers for Grand Final half-time entertainment.
"They had tried overseas singers from the USA, and they just turned up pissed," he laughs.
"It had looked like they couldn't pick a winner."
Granddad led them through just four rehearsals at the MCG before the big day in September. It took "a lot of logistics" to keep the excited kids "contained".
"They wanted to run all over the place," Granddad said.
"But that went well. And after the finals, that set us going.
"I could see the potential – it was there, no worries."
The group practised every second Sunday at the community rooms at Dandenong and District Aboriginal Co-operative. Gradually the dancers shed their natural shyness.
"It was about expressing themselves – which wasn't really an Aboriginal trait," Granddad says.
"They're not really extroverts. That's until they get the confidence – and then look out."
They experienced some heady times, such as fronting the inaugural concert at Drum Theatre in 2006.
The group met a politically-minded Michael Jackson in his Melbourne luxury hotel who talked at length about theirs and African-Americans' plights.
They also rubbed shoulders with Bunjil ACDC patron John Landy – an athletic great who was then Victorian Governor.
But in 2010, after 250 group performances, Granddad had to give it away. He was finding it difficult to drive the 11-seater tour bus due to his declining sight.
"It blew a head gasket, and then 12 months later it did the same thing.
"That helped me make the decision to stop."
Since then, the bus has remained on bricks in Granddad's driveway.
Granddad has had to fight doubters about the veracity of his heritage.
He understands that his mother Catherine Beryl Murray (also known as Beryl Gardiner) was adopted out in Prahran, soon after she was born in Beechworth in 1891.
She was believed to have been fathered by an Aboriginal tracker in the area.
Catherine's scandalised mother Lateisha Murray had been forced to give the baby up or else be ostracised from her husband Patrick and family.
"I've been carrying my mum's blood since I was born," Granddad says. "This gives me a chance to reply to those who say my mum wasn't Aboriginal."
Granddad hopes to find a place where the Bunjil ACDC group's artefacts can be permanently displayed. When they're taken down from Heritage Hill, they will be stowed in his Springvale home garage.
The exhibition is at Heritage Hill Museum and Historic Gardens until 4 July.