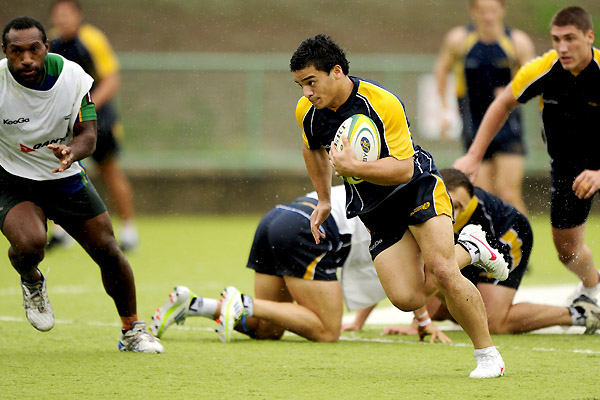 By Roy Ward
RISING Dandenong rugby star Allan Faalavaau will continue his rise up the Australian rugby sevens ranks when he takes the field in the famed Hong Kong Sevens on March 23-25.
The 18 year old was today (March 14) named in the Australian squad for Hong Kong and he looks forward to taking a more active role in this tournament.
Faalavaau made his debut for Australia in the Las Vegas leg of the world sevens tour early last month as a late injury replacement.
The Endeavour Hills Rugby Club junior said he wanted to make a bigger impact in the Hong Kong event which regularly attracts crowds nearing 40,000 people and large television audiences around the world.
''I'm excited. Apparently it's a really big competition, I've never played in a stadium of that size like that.''
Faalavaau said his confidence had increased significantly after his Australian debut and his form at recent Australian camps.
''I reckon I feel a bit more confident. The last event was my first time running out and I didn't know what to expect so it should be a little easier this time.
''When you first train and play it feels pretty hard. Now I'm used to it but it's not easier but I feel like I've adapted to it.''
The trip will also be his first visit to Hong Kong.
The Australian squad: 1. Allan Faalavaau; 2. Jesse Parahi; 3. Sean McMahon; 4. Tom English; 5. Jordan Tuapou; 6. Con Foley; 7. Damon Anderson; 8. Greg Jeloudev; 9. Ed Jenkins (captain); 10. Lewis Holland; 11. Dan Yakopo; 12. Shannon Walker.