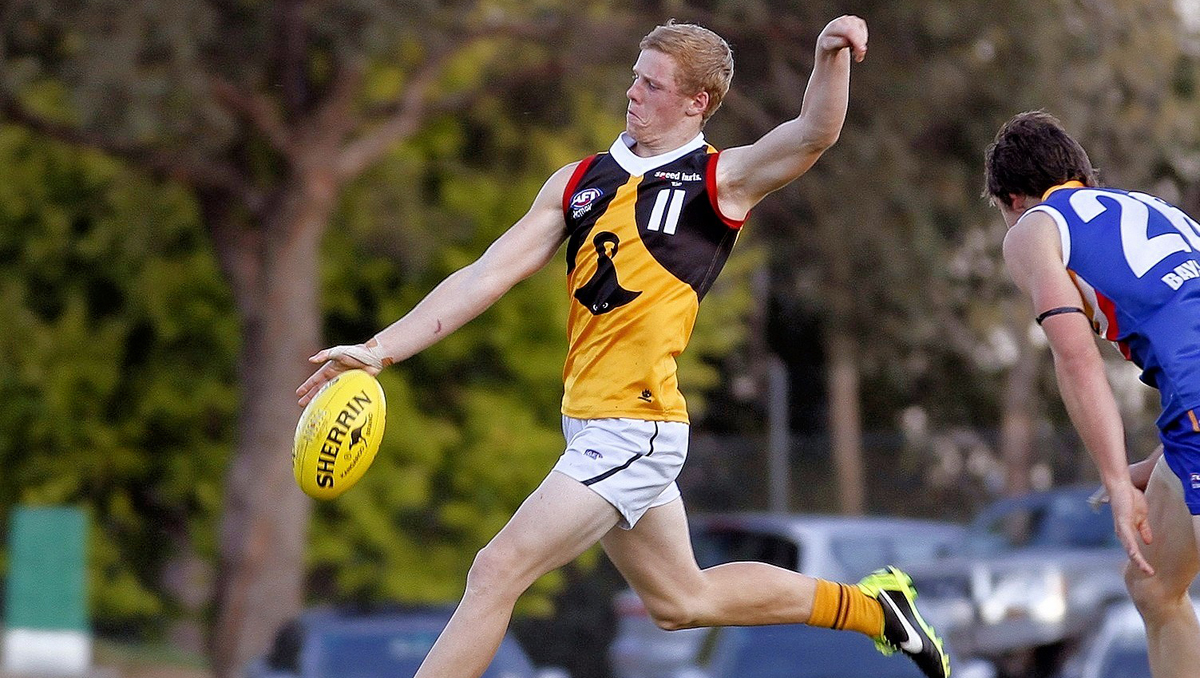 By David Schout
ZAK Jones has had a year to remember. The Dandenong Stingrays
defender and brother of Melbourne midfielder Nathan has transformed from
a largely under-recognised district player in 2012 to a strong AFL
draft chance in 2013.
His rise to prominence culminated in being named Vic Country's MVP
at the recent national championships, receiving All Australian under-18
honours and an invitation to October's draft camp.
Despite being named in the best 22 from the championships, Jones is not getting ahead of himself.
"I'd say it's a bonus that recruiters would look at it (All-Australian) but at the same time it's not everything," he says.
"But, yeah, I was pretty happy with my carnival, I wasn't really expecting it to be like what it was."
Jones has played most of the year off the half-back line for the
Stingrays, where he has combined a hard defensive edge with strong
rebound play and an effective intercept mark.
His courageous ''see ball, get ball'' mentality has won over
recruiters this season, and Jones has shown he knows what to do when the
ball is there to be won.
"Definitely no hesitations to put my head over the ball and try
and win my own footy. That's probably one of my main goals when I go out
to play."
The defender made his TAC Cup debut in only round two this year after playing for Mt Eliza under 18s last season.
A dominant performance in the preliminary final against Chelsea may have been the springboard to bigger things.
"It was a big game for me and I think I stood up to the plate on
that day. It was a big challenge because I wasn't in the Stingrays squad
and I was just trying to prove a point to the competition to try and
get a game with them."
Jones's junior coach at Mt Eliza JFC, Damon Anthony, was there that day and says it perfectly summed up his former charge.
"In the under-18 preliminary final last year I reckon he had 20 hard-ball-gets," Anthony says.
He says Jones was the perfect kid to coach from under 11s through
to under 16s, where his side played six consecutive grand finals.
"I haven't seen any kid at the same age as tough as Zak. He always does the team thing and has a very good footy brain.
"I don't know if they (recruiters) measure courage, but he seems
to have limitless amounts. Some people look over their shoulder when
they go into a contest. Not Zak."
Jones says having older brother Nathan to bounce ideas off is handy.
"It's a positive. He helps me, gives me feedback and tips on what I
really need to work on. I get to see the lifestyle that he has to live
and how hard you really have to work to be up to that standard."
Jones works with his father as a labourer and will be pivotal to the Stingrays' set-up as they move into the finals series.
The Stingrays' next game is against Gippsland Power this Saturday at 1.30pm at Shepley Oval, Dandenong. Entry is free.