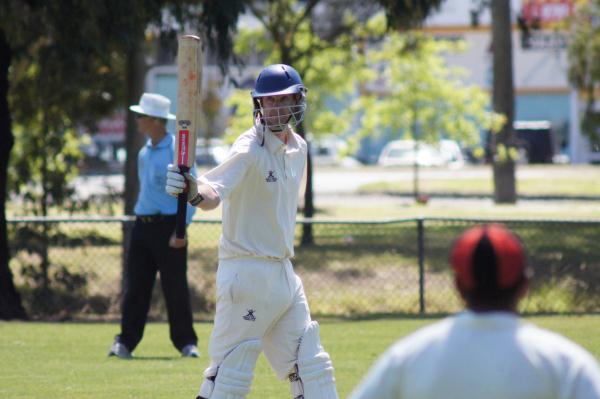 By JARROD POTTER
THE sunshine returned to play around the grounds in Dandenong District Cricket Association (DDCA) Turf 1 cricket this weekend, leaving the batsmen in prime position to notch a few runs.
Buckley Ridges v Heinz Southern Districts
WHILE his namesake (Paul Rudd who plays Brian Fantana in the movie Anchorman 2) is currently on tour in Australia promoting Anchorman 2, Buckley Ridges' variant of Paul Rudd (86) was pivotal to pushing the Ridges to 224 from their 76.1 overs against Heinz Southern Districts (0/2). Rudd's top-order early comrades Jayson Hobbs (2) and Antonio Greenidge (0) fell quickly. The revival came from Rudd and big Dan Haasbroek (32), knocking in 77 for the third wicket stand as Rudd raised his bat for a well-earned half-century. Haasbroek was trapped plumb in front and this only brought more pain for the Cobras as Suren Ekanayake (63) combined with Rudd for another 94 runs. Rudd's Fantana-stic innings came to a close 14-short of a century as he was rendered LBW and had to vacate Park Oval. By then the Ridges had stabilised and approaching the double-century mark. Another collapse rendered the Ridges all out for 224, after being 4/186 when Rudd departed, as the tail failed to wag. Captain Matt Goodwright (11) was the best of the Ridges' lower order as Matt Cox (3/24) Justin Davis (3/53) and Matt Cox (3/24) snared the scalps. Heinz batted out its three overs without issue and will resume at 0/2.
Springvale South v Berwick
The rear-guard action of a few gave Berwick (153) something to defend as Springvale South (0/26) ran through the Bears.
The Bloods' new-ball pair Tim Ford (6/62) and Yoshan Kumara (2/58) pretty much bowled the entire innings, snaring eight wickets between them in a display of ruthless attack on the Berwick order. Ford struck like a clock chime – hitting his mark and snaring victims at metronomic intervals. At 2/3, with Ford and Kumara snaring Berwick's openers on the cheap, it soon turned into 6/84 when Tanner Stanton (9) became victim number three for Ford. The fight back came from Ryan Williamson (34), promoted for his first Turf 1 run this season, and Nirmal Wickramaratne (32) – helping add crucial runs to a lacklustre tally. The captain Jarrod Goodes (21) emerged from the sheds at number 10 to help tickle the ball to the boundary in tandem with Adam Watson (16no) and Cory Bevan (8). This rout was completed by Ford – taking his ninth five-wicket or greater haul in the DDCA's Turf competitions. Nathan King (15no) and Steve Masterson (10no) batted to stumps unfazed with 128 left to attain.
Hallam Kalora Park v Lyndale
Jaime Brohier continued his rampaging start to DDCA Turf 1 cricket, belting 104 for Lyndale (7/279) on a day to forget for Hallam Kalora Park. Brohier knocked in his second century of the season with defining support coming from captain Rory Ingram (57), Ciaron Connolly (41), Quyen Pham (30) and Sanjeewa De Silva (34no). There was little Hallam Kalora Park could do but hold on and wait for Brohier to make a mistake – which eventually came as he hit out via Jagveer Hayer (3/41). It leaves a whopping 280 for Hallam to chase next weekend.
Coomoora v North Dandenong
North Dandenong's (181) renaissance of form continued with a competitive tally accrued against Coomoora (3/37), before making significant in-roads to their batting order. Craig Gunawardana (69) was the rock of the innings with strong support lower down as George Russell (33), Jurgen Andesen (12) and Yuri Ryoboshapka (21) put the icing on the cake via the tailenders. The fighting resistance came from Coomoora's Rob Johnston (6/64) as he ran through the Norths' batsmen. Luke Wenke (17no) and Oliver Ashford (1no) were the only two surviving Coomoora batsmen on the first day as Andersen (2/17) picked up a pair at the death.
Dandenong West v Parkfield
Dandenong West (121) was skittled by a combined Parkfield (2/21) effort. Matt Fielding (48) was the shining light of the Bulls' order while the rest crumbled about him under pressure from Shane Bell (3/29), Steve Spoljaric (2/27) and Matt Aslett (2/24). In reply, Parkfield lost Rob Carr (7) and Tony Payne (0) just before stumps with Andrew Harry (1/12) and Peter Atkinson (1/5) cashing in late in the day.