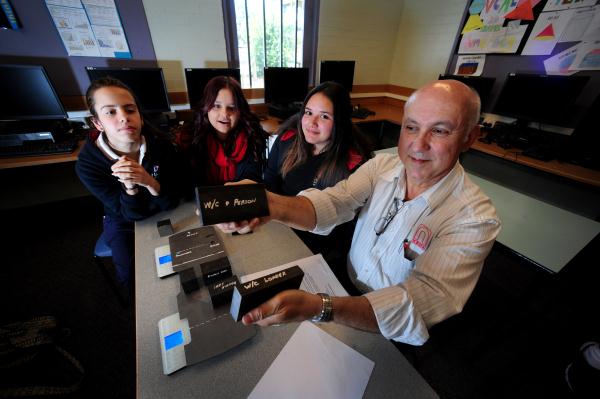 By CASEY NEILL
HALLAM Senior College students got a taste of the manufacturing floor this week – in their classroom.
Engineers from Nordon Conversions in Dandenong helped the teens explore common engineering tasks to solve a real-life problem.
Product design manager Haldun Olguner showed them a disability access vehicle that Norden had converted from a passenger van, before getting them to work through some of the engineering tasks he and his team performed to complete the fit-out.
The students used weights and scales to simulate balancing and placing seats, wheelchair lifts and other componentry to ensure the front and rear axles did not exceed regulated weight limits.
The class was part of the Beacon Foundation and South-East Business Networks (SEBN) Manufacturing XL program.
It is designed to improve student awareness of and interest in careers in the manufacturing industry by bringing businesses into the classroom to help teach the curriculum.
Duncan McKimm from Beacon Foundation said 'business blackboard' classes aimed to help teachers answer the common question 'when will I need to know this?'.
Businesses use real examples from their work to show how the content students are learning is applied.
"You not only teach them that what they're learning is relevant, you're also opening their eyes to the career opportunities available locally," Mr McKimm said.
SEBN manager Sandra George said it was important for young people to understand what manufacturing in the south east was all about.
"It's engineering and problem-solving skills like these that drive the industry, which this class really helps get across to young people," she said.
The Manufacturing XL program gives students the chance to tour local manufacturers, complete work placements and potentially gain school-based apprenticeships or traineeships.
It's part of Beacon Foundation's national Real Futures Generation project, funded by the federal Department of Education, which aims to demonstrate that when businesses and schools work together to help young people start their careers, the outcomes are positive for the whole community.
Businesses can contact Mr McKimm on 8668 3085 for more information.