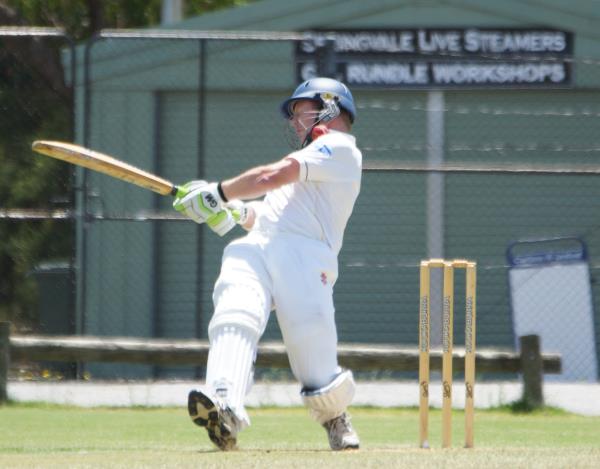 By JARROD POTTER
DDCA Turf 1 – Round 8 (day 1)
ON THE hunt for its first outright victory, Springvale South butchered Dandenong West and left nothing on the carcass.
SPRINGVALE SOUTH v DANDENONG WEST
CARVING up the Bulls – Springvale South (5/118dec) took the first innings points and set Dandenong West (95 and 0/20) a monumental challenge to stave off outright defeat.
Ruwantha Kellepotha (6/24) came into the attack after Yoshan Kumara (2/30) and Jarrod Armitage (1/20) peppered the Bulls' top order with bouncers and hazard-ball yorkers.
Sanjeewa Udahagamadedara (21) and Matt Collett (28) showed the only significant resistance to the beguiling spin of Kellepotha – who notched his sixth five-wicket haul in Turf 1 in only two seasons.
Kellepotha ran through the tail in his signature style, leaving the Bloods to flay first innings victory following a tonking session off 33 overs. Steve Masterson (26) and Dylan Quirk (19 not out) secured the win before Craig Slocombe sent Dandenong West back in for one last challenge. The Bulls would survive the final seven overs unscathed.
BERWICK v PARKFIELD
A ROLLER-COASTER ride at Arch Brown Reserve left Berwick (0/13) with the honours on day one as Parkfield threw it away not once, but thrice. The opening initiative failed spectacularly as the top-order crumbled.
Leaving the effort to Nilochana Perera (54) and Travis D'Souza (35), the duo notched 85 together and looked set to turn the tables on the Bears before a pre-tea collapse.
Losing four wickets in quick succession – the Perera/D'Souza partnership was broken by a careless "yes-no" run-out before Brad Baptist (0), Perera and Matt Aslett (0) succumbed. It left the last battle to be fought by the Parkfield tail as Mike Willmott (31 not out) and captain Shane Bell (25) turned a sub-par tally into something fortified.
Berwick is 0/13 overnight off its 10 overs.
NORTH DANDENONG v BUCKLEY RIDGES
RIPPED apart viciously by the North Dandenong (8/125) attack, Buckley Ridges (60) was left to pick up the pieces after conceding first innings points.
Shane Neeson (4/11) and Jurgen Andersen (3/12) ensured it would only take 37 overs to smash through the Ridges' order as Paul Rudd and returning club champion Shane D'Rozario (14) put something on the scoreboard. Backing up their aggression with the ball, the North Dandenong batting rocketed along as Alex Blake (39), Caleb Millman (30) and Shane Neeson (20 not out) kept the tempo ticking along after the top-order fell for next to nothing.
Whether they declare before resumption or set a tough tally for Buckley Ridges will dictate the Northerners chances of moving up from seventh on the DDCA Turf 1 ladder.
COOMOORA v HEINZ SOUTHERN DISTRICTS
REMAINING in the balance, Coomoora (142) can still escape with its inaugural win of the season as Heinz Southern Districts (5/99) lurched towards the first innings victory.
Joel Robertson (36) showed the needed grit to push the Kangaroos past 100 and towards something marginally respectable as Heinz tandem Paul Stockdale (4/62) and Michael Davies (3/23) razed any batsman who crossed their path.
The Cobra retaliation was comfortable before Adam Semmens (49) and Shehan Bandaranayake (22) fell to Saliya Saman (2/18) and Robertson (2/22), leaving Heinz's lower order exposed with 43 left to attain next week.
MORDIALLOC v LYNDALE
JAIME Brohier (55) continued his stellar season to push Lyndale (173) into a reasonable position against Mordialloc. Brohier and captain Ciaron Connolly (28) notched 64 for the fifth wicket after Stuart Squires (4/55) and Chathura Athukorala (2/12) rampaged through the visitors' top order. Gutsy lower-order batting from Aaron O'Dath (21) and Ricky Foulstone (21) pushed the scoreline along as Lyndale managed to bat out their overs and set 173 for the Bloodhounds.