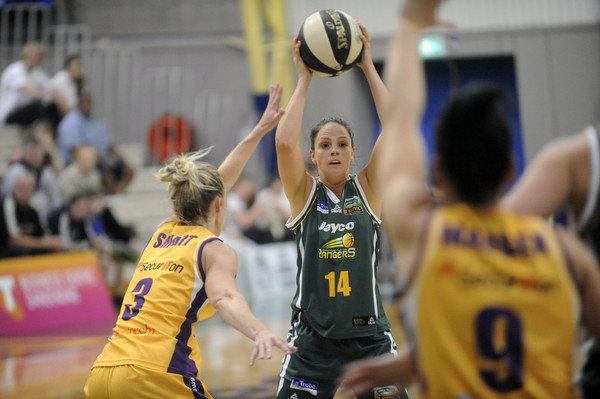 By JARROD POTTER
AFTER many laps around Australia on the WNBL circuit, Dandenong point-guard Amelia Todhunter has finally found her niche back at the place she belongs.
Todhunter, 27, has only returned to the Rangers' WNBL roster this season but has also flourished since inheriting the Rangers' starting point-guard job after a knee injury sidelined Aimie Clydesdale.
"It's been hard with Aimie gone, but it's definitely given me an opportunity to step up and I think it's going really well," Todhunter said.
"Rissa (coach Larissa Anderson) has a lot of confidence in me and that's a major key to my success – having the coach that backs me as the point guard."
In stark contrast to her own trying SEABL season – where she spent 13 weeks on the sidelines with knee issues of her own – she's taken her season-ending form into the WNBL season and has enjoyed the ramped up court-time.
After finishing winter with her fourth SEABL championship and second Barbara Barton Medal as SEABL grand final MVP, Todhunter has led the guard group with another returning Ranger Steph Cumming in a familiar back-court combo that's helped the side push on to a 5-4 record.
"It's so good to be injury-free and be strong enough out there and get my court time and can prove to everyone what I can really do," Todhunter said.
"We had a bit of a scare last week – my knee blew up and was a bit tender and sore – so I was freaking out a bit, Riss was freaking out a bit, but it settled down."
She was pivotal in Dandenong's upset 85-65 win over highly-placed Sydney Uni at home on Saturday.
Todhunter racked up eight points, seven rebounds and a match-high seven assists as part of a roster-wide demolition, highlighting what happens when the Rangers are underestimated.
"We knew they were a team we really wanted to beat, especially at our home court and I think we were really keen to get the win as we lost the two weeks before," Todhunter said.
"That win against Sydney showed that when we're on the same page we are unstoppable, especially when defence is our focus.
"I was pretty surprised when I found out my assists – that I nearly got a triple double – that's the first I'd ever get in WNBL – It was awesome and I guess the girls just got open and knocked the shots down."
While she journeyed throughout the league in recent seasons – starting at Dandenong before heading to Bulleen, West Coast then onto the newly named Melbourne – Todhunter admitted it was nice to be finally back where it all began and reunite with long-time SEABL coach Larissa Anderson at Dandenong.
"I love being back – Dandenong has always been my home, I started there when I was 18 and love being back and having Riss as a coach," Todhunter said.
"The group of girls is just awesome – we get along really well and it's like home to me – just love it."
Todhunter will feature in her 150th WNBL clash when the Rangers head across to Adelaide on Sunday and Dandenong coach Larissa Anderson believed Todhunter stepping up this season has been invaluable.
"I am so proud of Meels (Todhunter)," Anderson said.
"I think she's a very undervalued defender and has embraced the role and whoever she has had to defend and has done a fantastic job.
"There have been some games where things haven't gone her way, but I think she's embraced the role with both hands and is doing a great job."
Dandenong's weekend action tips off Friday night as the Rangers battle the Perth Lynx at home from 7.30pm.