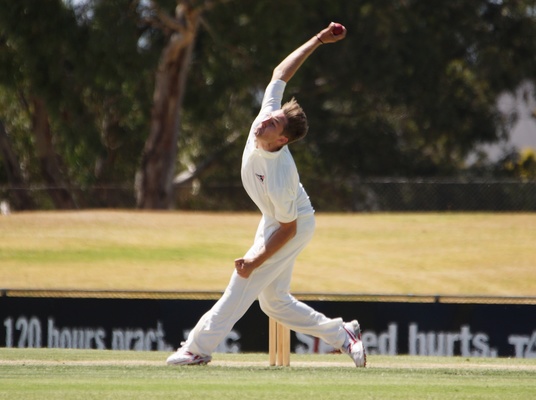 By JARROD POTTER
VICTORIAN PREMIER CRICKET – ROUND 14 (Day 1)
DANDENONG (1/52) is en route to an impressive upset victory after laying siege to the Monash Tigers' (195) batsmen.
The Panthers got their chance to inflict maximum damage on Monash Tigers – who are missing international pair Cameron White and Dan Christian to Big Bash duties – but had to bide time before striking.
The Tigers' openers dug in as Daniel Sartori (31) and Marcus Berryman (24) chewed up the opening hour and helped take the shine off the new rock, but from there the Panthers started chipping away at the opposition order.
Kooweerup up-and-comer Adam McMaster (5/60) struck first and struck often to claim his maiden five-wicket haul in Premier Cricket. The right-arm paceman was exceptional as he forced the error from Berryman before continuing on with the rest of the attack.
The Tigers didn't capitulate by any means though – with the recognised batsmen all getting starts, but the problems came in bundles for the visitors. They fell in clumps to James Wilcock (2/26) – who would've shouted himself hoarse from the number of close LBW appeals he generated – and workhorse Justin Butterfield (2/49). McMaster seized the prized wicket of first-class all-rounder Will Sheridan (18) and once the recognised bats had been sent packing, Monash was left in disarray at 6/116. The gutsy fightback from Dom Matarazzo (50) and Jack Harper (17) ensured there would be something on the board they could defend as McMaster ramped up for another salvo.
He seared through the tail – Sam Taylor (9), Harper and Matt Shimell (0) became victims three, four and lucky number five for the 19-year-old, as he claimed his 20th wicket of the year at a remarkable average of 19.3.
"It was his first five for in the comp and he bowled very well," Dandenong coach Ross Woodall said about McMaster. "He's been really impressive this year – really good for us and had a great under-19 carnival where he took 15 wickets in that tournament.
"Genuine pace bowler and has been really consistent with us and has been putting the ball in the right areas more often than not."
Whether it was the four seamers or the part-time spin of Peter Sweeney (0/27), Woodall thought the collective effort was impressive on Saturday – especially as a new look line-up in many ways this season without Matt Willcocks, Nathan Lambden or Dan Doran.
"I was rapt with our entire bowling group to be fair," Woodall said. "We bowled a lot of maidens and put on a lot of pressure and got the rewards – I just thought our constant pressure throughout the day was great.
"First hour – no luck and created a lot of pressure – the pressure we put on them to keep them down to less than two an over and those wickets we took before lunch were important."
"We've got the bowling depth there and while it was always disappointing to lose Lambden and Willcocks – we knew we had the depth to cover them.
"We've recruited a couple of fast bowlers from Ferntree Gully leagues and West Gippsland that will run around in seconds and thirds, so we think the bowling stocks are in good form."
A steady response from the skipper Tom Donnell (28) and Brett Forsyth (21no) kept Alan Wise (0/7) and company at bay, but Donnell fell on his sword late in the afternoon, skittled by Berryman (1/7) to leave the match in the balance heading into day two.
Dandenong's fourths played in a white ball grand final against Monash on Sunday.
WOMEN'S PREMIER CRICKET – ROUND 13 (Twenty20)
A dire run for the Dandenong Lions' (9/69) continued with a Twenty20 mauling at the hands of the MCC (5/107). Missing perennial stars Kelly Applebee and Sarah Elliott, the rearranged Lions' order – guided by interim skipper Chelsea Moscript – struggled to trouble the visitors on either side of the contest. Calisa Moffat (2/8) was the best of the bowlers while Emma Gallagher (26) kept the run rate ticking along. Dandenong faces Box Hill on Sunday in a Twenty20.