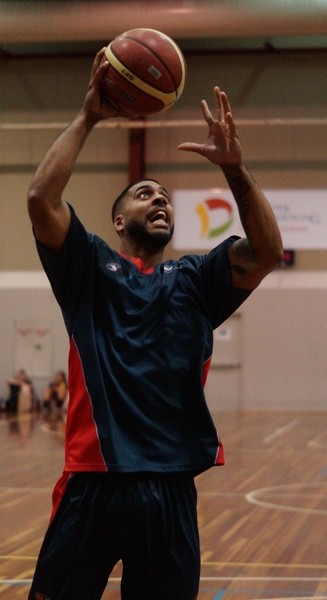 By JARROD POTTER
LEADERSHIP and the next great challenge guided Calvin Enge to his new basketball home – Keysborough.
Enge made the tough choice over the summer to leave the Dandenong's SEABL team, instead choosing to play for Keysborough in BIG V.
The big decision to leave the Rangers, the club he's called home for the past five seasons, was arduous for the versatile guard-forward, but Enge knew it was time to take his basketball in a different direction.
"I mean basically I got to a point at Dandenong where it was great – I miss all the boys the coaching and everything – but I kind of just thought for myself personally it wasn't the right fit anymore," Enge said.
"It was a bit selfish for one, the Dandenong Rangers team, and two, myself, to keep playing there and not pursuing a bit of a bigger role and that was my main point for leaving."
He wasn't locked in with Keysborough until earlier this year, where his choice, as so many things do, happened out of sheer coincidence.
Enge had few shoot around sessions over summer at Keysborough, just to stay fit and ponder where he would play in 2016, but found himself at home with the Cougars' squad and his signing fell into place.
"As for Keysborough that was a complete shock for me – I went down there a few times, have a few mates there and I went down and said I wasn't looking to sign there, just wanted a run," Enge said.
"Had a few practice sessions with them and really liked what they were about and the culture there and it all went from there."
While the more relaxed BIG V schedule is a big checkmark for Enge – no longer needing to travel around Australia with the SEABL side – the important factor in his move to Keysborough boiled down to his personal drive.
Enge knows he needs to step up as one of Keysborough's leaders – on and off the court – and take on the toughest responsibilities week-in, week-out.
"I love to challenge myself and I said I came to Keysborough to have a much bigger role," Enge said. "I'm one of the leaders in this group and that's a lot different for me, not so learn about myself but learn about my team mates as well, that's what I'm looking forward too.
"It's a bit of a smaller league, so I've got a bit more flexibility to play – coach (Nathan Vogt) has talked about playing me at the three-four so that's something I'm keen to do."
Nothing will ever take away from his experiences at Dandenong though as Enge finished his time in SEABL with 131 matches, two conference titles and the 2013 SEABL national championship.
"Definitely the experience and just being in that professional level – that's something you cherish forever and obviously we won a national championship there as well," Enge said.
"Just being around a great group of guys to learn from – I didn't have much of a junior background in basketball.
"I've learnt as I've gone along – so everyone from DP (Darren Perry) to Angela Harms has really helped me with that."
He took the court in the recently held Cougar Cup and Enge was impressed with the feeling around the group and especially the silver-and-blue fans.
What I've noticed about Keysborough is the atmosphere – every time we play down there it's just crazy," Enge said.
"They're a small club but they really know how to get down and support their team."
Enge and his Cougars will start their BIG V Division 1 Men's campaign away on Saturday 19 May, battling Mildura.