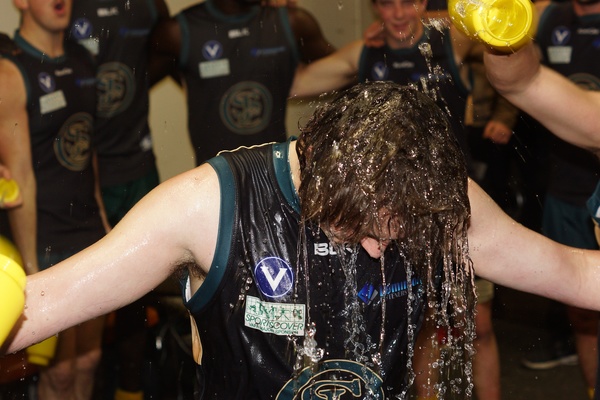 By JARROD POTTER
VAFA – ROUND 10
Good sides can overcome big challenges but the great sides truly relish them.
Even with a host of first-choice outs and an extremely rapid finish from Yarra Valley , St John's found a way to grind out its best win of the VAFA season so far – a 9.12 (66) to 9.8 (62) triumph at Thomas Carroll Reserve.
After a back-and-forth first half, St John's leapt out of the blocks after the break to surge well ahead. Daniel Abou-Karram, Matthew Nicholson and Aaron Thornton (two goals each) pushed the margin out to five good kicks at the final change and leave the side confident off running it out comfortably.
But they were put to the sword in the final term as Yarra Valley's forwards had it on a string. Ross Little (three goals) and Matthew Gazeas (two goals) lit it up to boot four goals in about as many minutes to leave St John's stunned.
Yarra stole the lead, the first time the JOCs have trailed in the final term this year, and forced the best out of the Dandy amateurs to stay undefeated.
Ben Ayache made his return to the St John's senior line-up – following last year's serious knee injury – and played his role in the last alongside debutant Nathan Mcconchie.
Their work up and down the wings and willingness to fly for grabs and spoils alike against the bigger Bushrangers' bodies worked a treat.
Inch by inch the ball got back towards the St John's goals as bodies flew in to keep the rolling scrums going.
Hotheadedness- whether by deed or speech – cost the visitors greatly as a reckless bump resulted in Nicholson getting a down-the-field free kick and a 50-metre penalty. He sealed his shot to boot the side ahead in the dying stages.
It left a handful of minutes left for the Bushrangers to conjure up another goal, but the dour work of Glenn Costas, Corey Ladson and Bahaa Khoweiss stopped the rot.
One last roll of the Yarra dice was rushed by the JOCs as the siren soon sounded on the hosts' triumphant battle.
"First time we were behind in the last term this year, which to bounce back from that was good for us," St John's coach Ben McGee said. "What does come under scrutiny from the game is our ability to be able to execute our ball in hand game plan under real pressure.
"At three-quarter-time I thought we had the better of them, but we have in that side probably four new players and those players felt the longevity of the game.
"To Yarra Valley's credit they were a very unified unit and never felt they couldn't win it – so when they got on top of us in centre clearances, three or four soon turned into five or six."
The nine-and-zip JOCs head up to Preston on Saturday to keep the winning ways alive.
Masala continued the winning ways in the city by thumping Chadstone 23.31 (169) to 9.2 (52). Sam Freeman (six goals) continued his marquee start to 2016 – taking his tally to 27 goals – while Wayne McMahon, Scott Becker and Matt Sexton all featured in the best.
In EFL results, Noble Park's rollercoaster season hit another trough after its thrilling win over Balwyn last week. Ladder leaders Vermont proved too mighty at the Bullring, holding on in a three-point nail biter. A six-goal final term from the Bulls – led by Tim Harper (three goals), Kyle Martin and Piva Wright (two goals each) – wasn't enough to complete the fightback. Ryan Morrison and Trent Robertson stood tall in defence all day, while Mitch Gent and Luke Bull impressed in the centre. Noble Park heads across the road on Saturday to battle next-door neighbour Rowville.