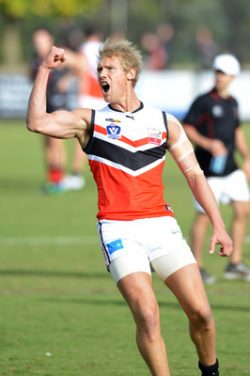 By Nick Creely
AFL Victoria has released the official rankings for the 2018 Worksafe AFL Victoria Community Championships following a highly successful 2017 competition on Saturday 13 May.
The Eastern Football League (EFL) has remained the number one ranked metropolitan league in Melbourne following its two-point win over Essendon District Football League (EDFL), and will now play off with Geelong FNL next year for the overall state number one ranking.
In the ripping contest at Bayswater Oval, which featured a string of Noble Park and Rowville players, the EFL jumped out of the blocks before the EDFL rose to life and almost clinched the victory.
In what is set to be the most hotly anticipated match in memory next year, the two are likely to play on the MCG similarly to Geelong's match with Mornington Peninsula Nepean this year.
The Southern FNL continues to climb the rankings, and is now into 22nd after defeating Central Highlands in a brilliant match of footy in Lyndhurst, while the South East FNL lost its first game in six years, and has subsequently dropped down to 13th on the rankings.
Here is a full list of the 2018 rankings:
1. Geelong FNL
2. Eastern FL
3. Mornington Pen.NFL
4. Northern FL
5. Essendon DFL
6. Ovens & Murray FL
7. Western Region FL
8. Ballarat FNL
9. Goulburn Valley FNL
10. Hampden FNL
11. Bendigo FNL
12. AFL Yarra Ranges
13. South East FNL
14. Murray FL
15. Gippsland FL
16. Bellarine FNL
17. Wimmera FNL
18. Central Murray FNL
19. Sunraysia FNL
20. Geelong & District FL
21. Heathcote District FL
22. Southern FNL
23. North Central FL
24. Riddell District FNL
25. Central Highlands FL
26. MCDFNL
27. West Gippsland FNL
28. Horsham DFNL
29. Warrnambool DFL
30. Kyabram DFNL
31. Colac DFNL
32. Golden Rivers FL