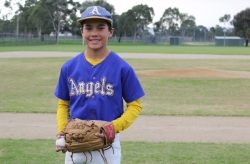 By Russell Bennett
Hampton Park baseball young gun Angelo Reale Rontos has more than a few things in common with his idol, retired New York Yankees legend Derek Jeter.
He's got a roaring competitive spirit, has supreme self-belief, and has an unending work ethic.
And he's also spent time playing at short-stop.
One day soon he may also reach the world stage playing the sport he loves.
The Hampton Park Secondary College student – who plays for Dandenong and has also had stints at Pakenham and Mulgrave – will next month head to Lismore as part of the Southern Mariners' under-12 Little League baseball team for the Australian Nationals – a precursor to the Little League World Series in America.
The 12-year-old rising star is already a relative veteran of the sport after starting in tee-ball.
Angelo used to live near the club at Dandenong and every time he made his way down there, he'd be hell-bent on staying.
Over his journey, he tried his luck as a pitcher before finding his groove as a catcher and hitter.
"You need good reflexes to be a catcher," he said.
"You need to be like a wall."
But Angelo also takes pride in his throwing ability and picking off players running between bases.
He was one of more than 50 youngsters who tried out for the Mariners side that ultimately competed in, and won, the state titles.
Next up – Lismore's nationals.
Angelo has friends playing at various clubs throughout the south-east, but at Dandenong – with a great group of team mates and coaches – he's found a home.
But he's not resting on his laurels any time soon – particularly with the lure of ultimately competing in the United States.
"I'm always working on my hitting," he said.
"I try to keep balanced and keep my head down, and sometimes just go for the safe hit and not worry about the home run."
He plays baseball through the summer and winter, and plays softball in the summer too – through which he's earned School Sport Victoria honours as part of the under-12 state team that came in third place.
The speedy young left-handed hitter with a strong right throwing arm needs support to continue on his baseball journey – which isn't cheap, and involves plenty of travel; both interstate and overseas.
Anyone in the community willing to help Angelo on his journey can visit www.gofundme.com/help-angelo-get-to-nationals.