By Nick Creely
Winning premierships with his mates is what Dandenong Stingray and Haileybury College star Mitchell Riordan values the most.
It's not the individual accolades he is after either – he is team orientated and plays for the genuine love of the game.
The 17-year-old is expected to become a crucial cog in the Stingrays' finals assault over the next month as he eyes his second flag of the season.
His first premiership of 2017 – an extraordinary undefeated season with private school powerhouse Haileybury – was monumental, and something that will inspire him desperately to taste that success again.
"When it comes to school football it's just a bit closer and in tight with all of your mates you go to school with," he said when reflecting on the school season.
"It was pleasing and one of the big moments of my life so far, and especially just to get the premiership undefeated with all my mates was really special."
With his fellow Stingray teammates Luke Davies-Uniacke, Oscar Clavarino and Aiden Bonar in the side, as well as many prospective AFL draftees, Haileybury completed a rare feat – going through the season undefeated in an almost unprecedented APS feat.
Riordan still has to pinch himself to think he has been running alongside some of the most promising names in the country.
"It's pretty special to think you're mates with some of these guys – it's pretty cool," he said.
"Just to hang out with them and have a laugh at training and throughout the week is awesome and knowing half of them will be running around in the AFL next year is great."
And with a band of elite coaches, none more prominent than Essendon legend Matthew Lloyd, Haileybury produced one of the finest school sides of memory.
"All of the coaches at Haileybury and the Stingrays for that matter are all great, and if you ask for feedback they'll just give it to you straight," Riordan explained.
"Lloydy (Matthew Lloyd) especially is just so helpful, I went to him for some goal kicking help and he was really open with me but all of the coaches are just down to earth and great blokes."
The former under-16 Vic Country representative midfielder, who will be eyeing off a place in next year's Under-18 National Championships, has changed up his role slightly both with the 'Rays and Haileybury as he evolves his game.
"This year I've moved up forward in school more just to get that aspect of my game improving, and even in the Stingrays in the early parts of the year I was also moved forward a bit – I just want to build up all aspects of my game," he said.
"I just want to keep working harder in the midfield too, but I'm happy to play wherever and try my best for the team."
In his six TAC Cup games this season in what has been another step in his development, Riordan has shown he has what it takes, and was terrific recently in a win over Northern Knights.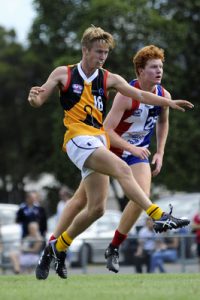 "With the TAC Cup footy it takes a while to get used to, but after a couple of games you get used to the pace and you start to gain some confidence to take the game on and especially last year getting a game really has helped me into the latter part of this year and next year too," he said.
As for his finals bounds 'Rays, Riordan is confident the group has learnt from last year and won't make the same mistakes.
"At the start of the season we believed our depth would be the strong point going all the way through and especially last year we did well and finished on top but we quickly realized it's not what happens during the season but what happens during the finals that matters the most," he said.