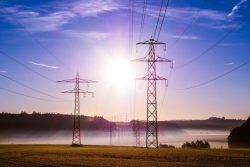 By Casey Neill
New cash to help businesses boost energy efficiency is welcome but "won't fix the root cause of the issue here".
That issue is electricity and gas prices rising by more than 250 per cent, forcing manufacturers to shed workers or put up their prices and risk losing customers.
Energy bills are topping $1 million at South East Melbourne Manufacturers Alliance (SEMMA) member Ace Metal Treatment Services, general manager David Karney told the Journal.
Energy, Environment and Climate Change Minister Lily D'Ambrosio announced a $1.76 million Better Commercial Buildings grant on Friday 11 August during a meeting with SEMMA.
She said the grants would help to identify and implement improvements and measure success.
Mr Karney said the program was helpful.
Ace's electricity price has more than tripled from its previous contract.
"Realistically, when the gas price has tripled, it's not about using less energy," he said.
"For a small company, a sudden and unexpected rise in energy costs of that amount is very hard to handle," Mr Karney said.
He's looking to lay off staff to keep the business afloat.
"When companies overseas can buy Australian gas cheaper than we can buy it – that is our understanding – simply improving our efficiency isn't going to make us competitive," he said.
Ace is a contract heat treater.
"So we take components that other people have manufactured, across a wide range of industries, and then we heat treat them," he said.
"We'll harden them to make them stronger."
Products include bolts, gears, clips and springs. They end up in Tesla cars, Australian Defence Force products and more.
Mr Karney said Ace had sought quotes from other electricity suppliers, directly and through brokers, and found very little price difference.
"With gas there's a limited number of suppliers that will actually quote," he said.
"We need a Commonwealth Government long-term plan.
"At the moment there is no major investment in new electricity generation from non-gas sources and there's still moratoriums across much of Australia on gas exploration.
"There's no bipartisan desire, it would seem, to actually ensure that there is consistent and low-cost supply."
SEMMA executive officer Adrian Boden said Ms D'Ambrosio was "very receptive" as businesses spoke to the 250 to 350 per cent increases in energy costs occurring across the board.
"The key issue what that one of the things that worried almost everybody around the table was the potential lack of understanding of the level of crisis that manufacturing's in with these increases," he said.
On the Better Commercial Buildings cash, Mr Boden said it was nice to have $1.97 million "but I have 11,000 manufactures in my back yard".
"There are businesses that really very clearly said there is no way that they can survive without some form of redundancies," he said.