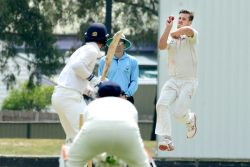 By Nick Creely
Dandenong captain Tom Donnell and his fellow Panther teammates are flying through the pre-season with a chip on their shoulders.
After finishing second on the 2016/17 Premier Cricket ladder, the Panthers were disappointing in a 130-run semi-final loss to Melbourne, which ending their season.
With that firmly etched into their minds, Donnell said that it was a painful reminder of never taking games for granted and it will be used as a source to drive them further this season.
"It was certainly a disappointing finish so certainly there's a chip on the shoulder – especially for the senior guys who played in that game.
"We had a good year and one-and-a-half days essentially ruined that. We'll take that with us this year and try to build on it," he said.
"When we get in that position to win finals we have to take it, because they don't come around every day.
"We'll hopefully play finals and push further than what we did."
Stability has been the theme through what has been a seamless pre-season for the club at Shepley Oval, with the club also taking the opportunity to get away from the unpredictable Melbourne weather.
"It's been mainly indoor stuff with the weather, but we had a trip up the Gold Coast a few weekends ago which was great for the guys that came on that," Donnell said of the pre-season.
"We've done the trip three times, it's a connection with the Gold Coast Cricket Club who we have a great relationship with through Dan Doran.
"We had 12 go this year, mainly the senior players and we go up, train and have a one-day and twenty20 game – it's pretty hectic but really good and it's nice to get some good weather."
The Panthers have managed to retain the majority of their list as well as add former St Kilda paceman Jak Jowett and Yarraville spinner Akshat Buch adding to a growing list of bowlers among their elite top-six with the bat.
But the biggest coup of all this season is the return of Dandenong champion and former international cricketer Darren Pattinson.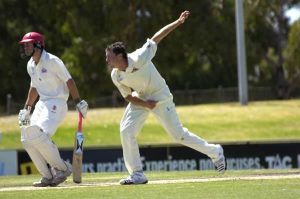 "The only person we're probably missing is Cal (Parkinson), who is not coming back out (from the UK) which is a shame, we were keen to get him back because he had a great season last year for us – but everyone else is still on board," Donnell said.
"We picked up a spinner in Akshat from Yarraville so he'll add to us.
"Patto is keen. He came up to the Gold Coast and bowled his 10 overs at full tilt, which was good.
"He's had three or four years off but looks so impressive."
With so much added bowling depth at the club, Donnell is unsure how the make-up of his bowling group will look come Round 1, but is excited by the thought of what all his quickies bring.
"We have got a deep bowling group, which is what we need.
"All our pace bowlers will get an opportunity at some point this year which is exciting.
"We've got other blokes like Patty Turner, Matt Wetering and Adam McMaster as well – I expect all those guys to play this year," he said.