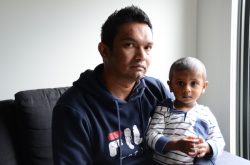 By Casey Neill
A Noble Park father is facing deportation to Sri Lanka after a personal appeal to the Immigration and Border Protection Minister failed.
Eranda Ranasinghe, 39, reached out to the Journal in a final bid to be allowed to stay in the country he's called home for 11 years.
"It's a nightmare for me at the moment," he said.
His wife is receiving treatment for mental illness. They have a 15-month-old son, Makeyl.
He's been unable to work since March last year because they both need full-time care.
Eranda receives Centrelink payments but spends more than 80 per cent of the money on rent.
It's a far cry from his arrival in Australia as a student on 1 January 2007.
His dream was to learn about hospitality and gain permanent residence.
"Another intention was to have a better life style contributing to Australia," he said.
He has a diploma of hospitality management.
"I have completed studies within the time frame without having any delay or failing subjects," he said.
"After that I have completed my one-year paid work experience in order to qualify for permanent residence.
"After that I have received the temporary resident."
Eranda said he was a department manager at Braeside McDonald's for three years "and my fluency of English, strength and ability led me to get promoted since I joined as a crew member".
He said he'd had no run-ins with the law and paid taxes for 10 years.
But he's failed the International English Language Testing System (IELTS) test 22 times.
He needs to score six in each component of the test but has fallen 0.5 points short in the reading section.
"I attended the classes to improve my knowledge," he said.
Eranda said a teacher picked up something wasn't right and neuropsychologist Doctor Georgia Lowndes "issued a report explaining that I am having disorder for reading in IELTS test".
A migration agent put a review to the Migration Review Tribunal in December 2013 and Eranda was referred to Immigration and Border Protection Minister Peter Dutton.
In September last year he was refused ministerial intervention. In November he paid $2000 to attend a Diwali dinner at the suggestion of his migration agent.
"I had to pay $2000 to get that opportunity to sit near to the minister," he said.
"I had no other option on that time and I had to get that first opportunity to meet the minister to express my situation.
"The minister and my family had a discussion, meanwhile the minister hold our baby too.
"My wife briefly explained to minister about our situation.
"Then minister asked me to reapply."
Eranda said that Mr Dutton even mentioned Makeyl in his speech.
He completed another application independently, unable to afford the help of a migration agent.
"The minister has acknowledged my request on 8 December 2016," he said.
"Today (5 September) I received the outcome of the application stating application is rejected."
But he's still hopeful he'll be allowed to stay in Australia.
"I don't think we would be able to start a life back there (in Sri Lanka)," he said.
A spokesperson for the Department of Immigration and Border Protection said the department and assistant minister had comprehensively assessed Eranda's case.
"Ministerial intervention is not an extension of the visa process," they said.
"A person who has been refused a visa and has unsuccessfully sought merits review is able to write to the Assistant Minister and request intervention.
"However the Assistant Minister cannot be compelled to exercise his powers and he is not required to explain his decisions on any case.
"What is or is not in the public interest is entirely a matter for the Assistant Minister considering each case on its own merits."
The spokesperson said the Assistant Minister only intervened in a relatively small number of cases which presented unique and exceptional circumstances.
"People whose requests for intervention have been unsuccessful and who do not have other matters before the department are expected to depart Australia," they said.