By Nick Creely
DDCA TWENTY20 CUP
ROUND 2 REVIEW
Hallam-Kalora Park star Leigh Booth stole the show with a stellar match winning century in last Wednesday's Twenty20 thriller with Mordialloc at Hallam Reserve.
In an entertaining clash between the two powerhouses, the Hawks escaped with an incredible one run victory.
After winning the toss and batting, Booth struck a brutal 106, a knock that included seven fours and seven sixes and, combined with Jagveer Hayer (55), lifted the home side to a formidable 3/176.
Although plenty Bloodhound bowlers took a belting, their professionals in Ian Daniel (1/20) and skipper Chathura Athukorala (2/20) kept the score within reach.
The Bloodhounds did their best to crash the boundaries and despite terrific knocks to Brendan Morris (63), Peter McDermott (29), Damith Mapa Ralage (26) and Ian Daniel (24), fell just one run short on 7/175.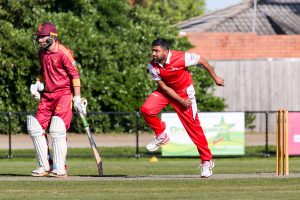 Down at Perc Allison Oval, North Dandenong put in an impressive performance to win its second straight match against Beaconsfield.
Off the back of in-form skipper Matt Golding (70), the Tigers could only muster up 7/136 off their 20 overs, as Clay McCartney (2/31) and Mitchel Minhas (3/29) did terrific work with the ball.
Marquee man Adam Amin struck a terrific 59 to help the Maroons overtake the Tigers' score with two wickets left in the shed.
Narre Warren also gave Berwick a run for its money, with only a late hat-trick to Cory Bevan helping the Bears over the line.
After Matt Chasemore (60) helped guide the Bears to 8/142, the Magpies looked in a strong position at 3/120, before Bevan removed Aaron Goncalves (39), Travis Walker and Hussain Ali in consecutive balls to tip the match on its head.
The Magpies eventually fell short by 10-runs, finishing on 9/132.
Narre South (5/132) also notched up a win over Doveton North (6/128), despite an attacking 63 to Jackson Freeman, while Springvale South (8/141) pulled away from a highly competitive St Mary's (8/128) at Carroll Reserve.
Other results
St Brigid's/St Louis 2/156 (M. Jamieson 72*, L. Brodie 40, V. Deshpande 28) def Dandenong West 7/154 (T. Ewing 37, W. Ghauri 31, K. Gray 2/21, P. Jamieson 2/43); HSD 6/157 (M. Davies 72*, T. Davies 30, A. Read 2/28, K. Baldsing 2/29) def Silverton 104 (L. Rhodes 25, K. Weeraratne 3/5, K. Lokuarchchi 3/15); Cranbourne 5/119 (L. Ligt 41, H. Miller 25*, V. Singh 2/18) def Lynbrook 9/113 (J. Walia 46, S. Miller 2/14, J. Hussaini 2/15, C. Kelly 2/22); Buckley Ridges 7/133 (G. Todd 65, R. Livera 2/20, K. Tissera 2/26) def Berwick Springs 7/82 (G. Todd 2/12, L. Hoogenboom 2/13); Dingley 3/100 (J. O'Brien 42*) def Parkfield 98 (P. Barnes 28, C. Otto 3/6, C. Booth 2/9); Narre North 6/209 (L. Rogers 74, S. Brandon 60*, T. Marshall 2/25) def Hampton Park 9/148 (M. Penn 54, R. Hendy 4/31, B. Knowles 2/13, C. Capp 2/30)
After the first rounds, North Dandenong, Berwick, St Brigid's/ St Louis and Dingley make up the top four.