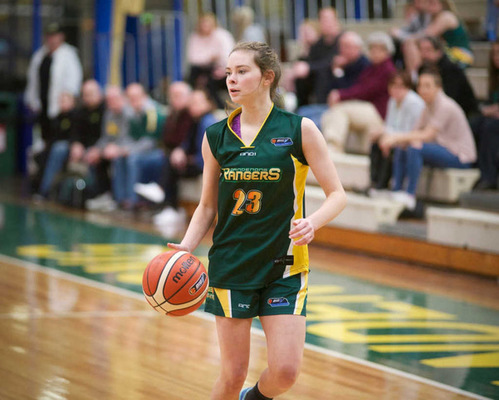 By Nick Creely
Basketball sensation Maighan Hedge describes her newly-signed athletic scholarship to Cameron University as a twist of 'fate'.
Not only will the 18-year-old – originally from Berwick Basketball and currently with the elite Dandenong Rangers jet off to the USA in August 2018 to start a college life – home will always be close by.
The head coach of Cameron University is a woman named Emma Andrews, who also originates from Berwick and shares some startling similarities with the star young basketballer, who believes the opportunity will open the door for her entire sporting career.
"She has the same birthday as me, and we grew up only 10 minutes away from each other, so it's pretty cool – I think it's definitely fate," she said only a day before heading to the USA for a basketball tour with school, her first taste of the basketball scene.
She (Emma Andrews) was also coached by Michael Davies (Maighan's coach) so there's that too."
The star point guard – who is another successful product of the renowned Rowville Sports Academy – is counting down the days until she can begin college life, and is excited by all aspects of what stands in front of her after mountains of Skype calls and tapes for the coaching staff at Cameron University to consider.
"I'm extremely excited; it's something I've wanted to do for a very long time – for it to be finally over, and for the process to be finished, it's very exciting," she said.
"They looked at several other recruits as well, but I guess they like me – they also look at personality too, so it goes both ways.
"I'm looking forward to the professionalism – all the extra training and the way they go about things is exciting.
"They have a lot of TV coverage, so there's a lot of media interviews so I'm really looking forward to that side of things too.
"And the academic side as well is exciting – I can go over there and study and play basketball, and it's rare you can have that type of experience here."
Maighan currently plays for the Dandenong Rangers in the Victorian Youth Championship, and credits a lot to the coaches who have helped develop her game into a quick player with genuine star qualities.
"They (Dandenong Rangers) have done a lot of extra training with me when I've asked, and all the coaches have sat down and spoken with me when I've had questions, such as stuff that I need to do better," she said of her current club.
"They're very good personally in developing young athletes and giving them the chance to succeed.
"I got a really good coach in Michael Davies, and I kind of went from being a domestic player to developing into a player at Dandenong, and he started off my journey well, and I credit a lot of my stuff to him."
But it's her family that developed a love for the game early on, after initially being focused on another sport, also with the round ball.
"My sister played for Berwick domestically, and my Dad coached Berwick – originally I played soccer, but because they were so heavily involved, I decided to give it a go," she said.
Hard work and a commitment to improve all aspects of her game remain firmly in the mind of Maighan until the time she begins her journey, who is hoping to make a splash in the big leagues when she does return to Australia after a good grounding in the game..
"After college, I'd like to come back and play SEABL or WNBL, and that's about as far as I've thought at the moment, but at college I'd obviously like to do well," she said.