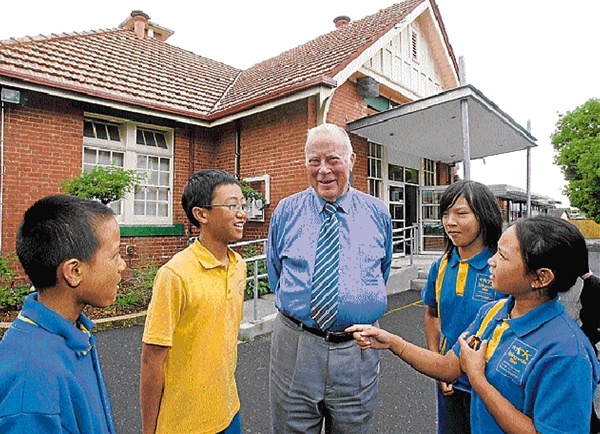 By CAMERON LUCADOU-WELLS
TRADITION is important to one of Springvale Primary School's oldest former pupils Bill Warner.
The 86-year-old former mayor is one of the organisers of the school's centenary celebrations this month.
He was taught at the school – now known as Springvale Rise – during the Great Depression.
He has sharp memories of walking two kilometres to school, getting into fisticuffs with another pupil over a banana and being beaten twice by a teacher with a metre-long rubberised strap that wrapped around his hands.
Mr Warner also remembers how he was urged to achieve by kindly teachers such as Miss Crellin. It was something he took to heart, as a three-time Springvale mayor and recipient of the Medal of the Order of Australia.
He and his family have had a big hand in the school for 82 of its 100 years. In the foyer, there's pictures of Mr Warner as mayor and as school committee president and parent of three at the school during the 1960s.
Under that is a picture and plaque of his mother Iris, a stalwart at the school mothers' club for 32 years.
In the past 10 years, Mr Warner has returned to present badges to captains of Warner house – named in recognition of his family's long involvement at the school.
"This school has had a tradition of building on the past," he said. "My advice to pupils is to study hard, give respect to their teachers and when they eventually leave school to always come back and say hello."
The centenary features refreshments, historical displays and cultural performances. It is on March 24 from 9.30am-3.30pm at the school at 355A Springvale Road.