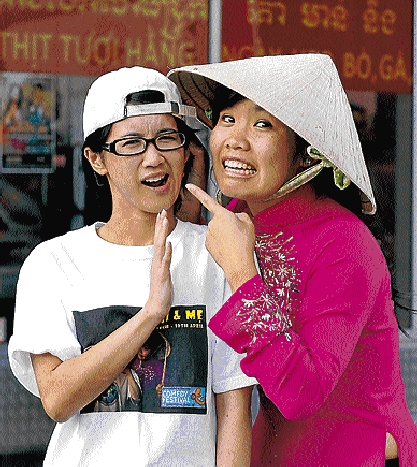 By CAMERON LUCADOU-WELLS
FOR most of the year, teacher Fiona Chau doesn't play for laughs.
But during the Melbourne International Comedy Festival she will drop her everyday persona to play a hapless adolescent boy in a play Phi and Me Too.
"It's weird. My students say 'Miss, I've seen you on YouTube' and they tease me about it. I try to be serious at school. If I'm funny with them, they'll probably slacken off. But at least they know that I have this funny side."
Chau has studied her students to help her get into character, making note of what music is in, what's cool and what's not.
As a drama student at all-girls school Killester College, she was often required for a male role. She's still at Killester, as an Indonesian language teacher.
Phi and Me Too centres on second-generation Vietnamese-Australian teenager Phi and his overbearing mother, played by Chau's friend and co-writer Diana Nguyen.
Chau and Nguyen met as students at Killester College and shared a love of drama and comedy.
Last year, they reunited to write a play – the first instalment of Phi and Me – for the comedy festival, scoring sell-out shows and front-page coverage in the Weekly.
"A lot of people told us it's just like my life growing up with mum and dad. They hadn't seen a Vietnamese-second generation comedy before."
This month's show looks at a family wedding and the stress piled onto Phi's mother – and then passed onto Phi.
Like last year's play, it is based heavily on Chau and Nguyen's families. "We thought seeing themselves on stage might stop them from nagging us, but that didn't seem to work."
Phi and Me Too is at The Upstairs Lounge, 230 Little Collins Street, Melbourne, from March 29-April 8, 7.45pm (extra Sunday shows at 4.30pm). Bookings on phiandme.com.au or tickets at the door.