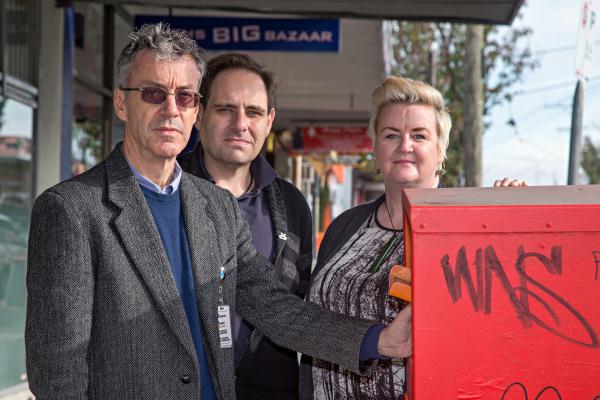 By CAM LUCADOU-WELLS
ABOUT 40,000 needles are exchanged for clean ones each month at Foster Street Clinic in Dandenong but its managers say that's barely enough.
"I hope that will increase. I want to double it," the clinic's operational manager Debra Alexander told a business breakfast last week.
The clinic argues it is limited not by funding but by the community-wide stigma that still surrounds its 20-year-old service.
The stigma had repelled drug users who needed help, created uneasiness with the clinic's neighbours and extended even to staff at health centres, the clinic's addiction medicine specialist David Jacka told the Journal.
"We're not shunned by the health industry per se, rather by people who work in it.
"They are normal people who work in our services. Unless they get experience or education, they reflect the prejudices of the population.
"Even some GPs don't look after drug users. They say it's too hard."
The clinic's life-saving benefits had been obscured because of the common fears about injectable drug-users.
As Dr Jacka put it: "The clinic is not about encouraging more drug use. Our focus is to stop people still sharing needles."
For Ms Alexander, more needle exchanges increase the chance of engaging drug users and directing them into methadone treatment, and job and training services.
It also means about 30,000 fewer dirty needles on the streets each month. She said needle exchange clinics had played a big role in reducing the risk of spreading blood-borne disease such as HIV, AIDS and forms of hepatitis.
"The return on investment is about $1.2 billion of savings in direct health care costs because of these services."
Their clientele wasn't always easily identifiable – they include steroid users, tradies, young and old, and office workers.
There had been some teething problems as the exchange turned to a new model and moved closer to Dandenong railway station last year.
One success has been a Monday and Friday breakfast club – a chance for clients to get a good morning feed as well as to chat with staff.
"We can talk with them about reducing the risks associated with their drug use, and also even better to get them stopping," Ms Alexander said.
Dr Jacka said the clinic could reach out further if it opened beyond its weekday 9am-5pm opening hours and had more outreach, such as visiting nightclubs.
"The need to access clean syringes isn't limited to 9-5, you can buy drugs anytime, day and night."
Ms Alexander says in the end, demand had to justify the extra services.