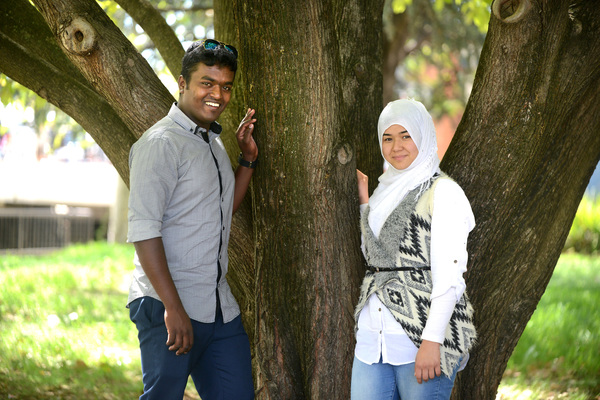 By CAM LUCADOU-WELLS
ONE year after arriving in Australia, Hayuran Mahendiran and Farzana Nadiri have come a long way.
The pair battled language and cultural barriers before a Greater Dandenong Council's Young Leaders program helped them find their feet last year.
Emboldened, they are staying on to mentor and inspire the program's 2016 recruits.
Afghan-born Ms Nadiri wishes all young people including new arrivals could do the program.
"Especially when Australia is attracting so many migrants, they have to know about their new culture.
"It's the best way to co-operate with each other."
Ms Nadiri, 22, of Hallam, started the program just two months after arriving from Pakistan with her husband.
She was coming to terms with new cultural ways, language and the Australian accent, as well as suffering from depression.
She has left behind her parents and siblings to endure the atrocious targeted killings of Hazaras in Quetta, Pakistan.
"The people born here are very lucky and they don't know that."
In the past year, she's won an Office of Multicultural Affairs and Citizenship scholarship to take part in a leadership course for young women and brainstormed at a MyHack workshop for anti-radicalisation kits.
"The main thing is I've communicated with different types of people, learnt more about Australia as well as helped my leadership skills.
"If I hadn't have done these programs, I wouldn't be able to understand what Australian culture needs from me."
The young leaders identified issues such as mental health and unemployment and learnt how to organise events to tackle them.
One of the young leaders' projects was to raise mental health awareness by producing a video screened in front of 300 students at Dandenong's Harmony Square.
Ms Nadiri hopes to mentor other young people whose mental health is wavering, as well as young victims of family violence.
"Many that I've met don't know they have rights or where to go for help."
In Mr Mahendiran's case, the program helped him emerge from painful shyness and make lifelong friends with other young leaders.
The 20-year-old Dandenong man had fled Sri Lanka as a refugee in 2014 and arrived in Australia with his father and sister later that year.
Half of his family wait in limbo in Indonesia. But at least they're safe, he said.
After three months settling into Australia, a friend "dragged" him into the program.
"It was the platform for me to take the next step.
"It's hard for us from different backgrounds but we feel we're doing better with each day.
"There's a lot of help out there."
Mr Mahendiran was at first terrified of serving customers as part of a hospitality training course.
Now he thrives on such encounters and recently presented in front of a forum of 200 people.
This year's Young Leaders program is open to people aged 16 to 25 who live, work or study in Greater Dandenong.
The program teaches skills in public speaking, media and promotion, effective communication, conflict resolution, stress management and implementing projects.
It runs each Tuesday from 4.30pm to 6.30pm between April and October.
For details visit greaterdandenong.com.