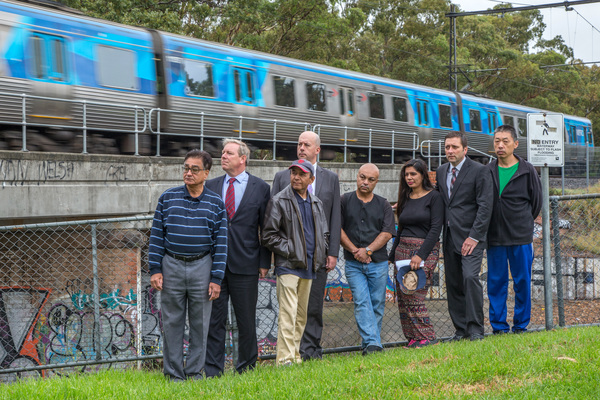 By CAM LUCADOU-WELLS
RESIDENTS in Douglas Street, Noble Park, are mobilising against the possible destruction of nearby parkland by the proposed sky rail project.
Eric D'Cruz's property is several hundred metres west of the Chandler Road level crossing, which is one of nine to be removed by the State Government's planned elevated Dandenong-Caulfield rail line.
"I'll fight it to the end," the quietly spoken man said as he prepares to distribute No Skyrails petitions, posters and pamphlets.
For the past 24 years he's enjoyed a vista of open woodland comprising tall red river gums – though it is often scythed by hurtling trains about 20 metres from his front door.
He's got used to the train noise but is "shocked and in disbelief" by the prospect of a nine-metre tall sky bridge that will replace level crossings but also his view – and indeed some of those mature trees.
It's not what he asked for, nor what he expected. Mr D'Cruz thought the tracks would be built under Noble Park's three level crossings.
His neighbour Graham Ambrose was first swayed toward supporting the project by a visiting Level Crossing Removal Authority doorknocker who talked "some nice pie in the sky".
Now he's worried about the impact of "big drilling" metres from his house during construction and graffiti and vagrants that may blight his street.
"I'm prepared to be a part of a protest action."
They and other neighbours met with state opposition leader Matthew Guy and Liberal Upper House MPs David Davis and Gordon Rich Phillips, as well as No Skyrails action group organisers in the street on 17 February.
Mr Guy was impressed by Corrigan Road resident Chris Papapavlou's pithy critique of sky rail in last week's Journal – "you can't polish a turd".
"You won quote of the year," Mr Guy told the resident.
"They're up in arms because they're misled. I don't think that will go away," Mr Guy said, noting the Labor Party lost nearby seats when it broke a promise for an untolled Scoresby Freeway, which is now the tollway Eastlink.
Publicly-released illustrations of a two-track sky rail did not depict the true impact of three or four tracks, he said.
"It's far wider than what the government is telling residents. It is consistently lying to residents.
"For (Premier) Daniel Andrews to say people were aware of this concept before the election is untrue – it's treating people with contempt.
"He wasn't saying there would be a sky rail several kilometres long."
On Saturday, the action group will make its voice heard at a community meeting held by the Level Crossing Removal Authority in Noble Park.
There was talk of possible community legal action against the project.
No Skyrails member Dianne Hunt said the movement was gathering momentum along the rail corridor – 4000 petition signatures, more than 800 Facebook likes and more than 1800 website views in three hours.
"We want the government to stop and get back to consulting."
The government's own documents warned that elevated rail was a "second-rate option", Ms Hunt said.
A 2014 Office of the Victorian Government Architect paper titled Level Crossing Removals: Lessons Learned stated that elevated rail or road was "not a preferred solution".
It would impact on "visual amenity, permeability, viability of activity areas, value of land and appetite for future development".
"They often provide a cheaper solution but a poorer outcome and therefore a false economy.
"Don't ignore the broader costs and benefits of the project and long-term legacy of a once-in-a-generation infrastructure intervention."
Level Crossing Removal Authority chief executive Kevin Devlin said the "modern elevated design" was selected because "we believe it is the best way to remove these level crossings and creates the best urban design outcomes".
"Modelling by acoustic experts has identified that the proposed design will result in an overall decrease in noise compared to the current rail line.
"We will be working one-on-one with residents who back on to the rail line and will be looking at privacy and noise screening as well as vegetation and fence improvements."
The public meeting will be held at the Paddy O'Donoghue Centre, 18-34 Buckley Street, Noble Park, 9am-noon.