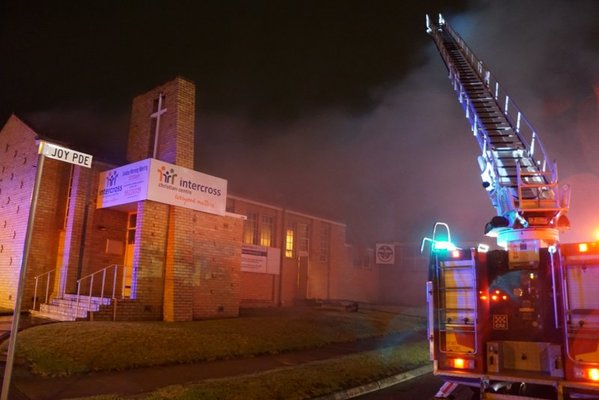 By CAM LUCADOU-WELLS
A SHOCKED Noble Park church community expects to fully reopen within months after a deliberately lit fire gutted its kitchen and hall.
St Columba's Uniting Church council chairman Greg Wyatt said the building on Joy Parade had been the recent target of vandals, who broke several windows a week before the fire.
Early on 18 February, unknown intruders broke into the church by smashing a glass door's pane.
They piled papers onto the kitchen's gas stove and ignited them.
The fire spread into the roof, destroyed the recently renovated kitchen and significantly damaged the hall – that hosts up to eight community groups.
Mr Wyatt regards it as an "unprecedented" attack on the church.
"You can't say it's an accident," Mr Wyatt said.
"I have no idea why it happened. It leaves a bitter taste in my mouth.
"You don't expect churches to get attacked."
Mr Wyatt said the resilient congregation was "gutted" but would rebound from the damage.
Eight community groups who used the space were affected by the blaze, no more than the Intercross Christian Centre that's based in the hall.
"All of the groups are going to have to modify (their use of the building) for the next few months."
The church's worship area and offices were relatively quarantined from damage and re-opened within days.
The damage bill of at least $500,000 is fully covered by insurers, Mr Wyatt said.