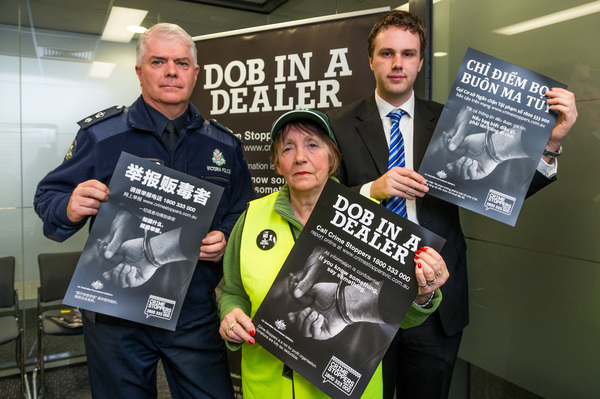 By CASEY NEILL
Greater Dandenong will welcome 38 new frontline police this month.
Victoria Police Dandenong Divisional Commander Superintendent Paul Hollowood made the announcement at a Dob in a Dealer campaign launch at Dandenong police station on Wednesday 27 July.
He said a frontline tactical unit would start in August.
"That's a unit of uniformed police – that's 38 additional police – that we're going to be putting on the street to actually deal with street violence, street crime, and the type of public order offending that we're seeing out there as well," he said.
"We're also establishing a divisional response unit, which is a group of investigators – that's 28 investigators – who are going to be focusing on targeted investigation.
"We're actually able to take it to the criminals in the first instance."
Over the next two weeks, Crime Stoppers is urging residents to tackle the manufacture and distribution of crystal methylamphetamine, or ice, and other illicit drugs in their neighbourhoods.
Crime Stoppers' Chris Plumridge said Neighbourhood Watch and Greater Dandenong Council would also assist with the campaign.
He said reports of drug trafficking and manufacturing increased by an average of 168 per cent during the campaigns run last year.
"When you call Crime Stoppers, you don't talk to police – you talk to a Crime Stoppers call-taker," he said.
"They take down any information that you might have about crime, and then they remove all the stuff that's going to identify who you are, and then they pass it on to police."
Supt Hollowood said "the community are our lifeblood in terms of information".
"The insidious influence of ice actually does drive a lot of the crime that's occurring," he said.
Visit www.crimestoppers.com.au or call Crime Stoppers on 1800 333 000.